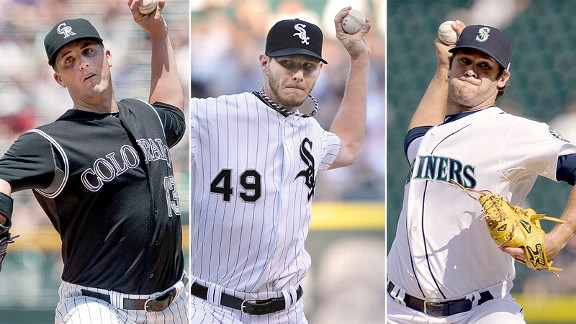 Getty Images/US Presswire
The college pitchers taken in the first round of the 2010 draft have made their major league debuts: (l to r) Drew Pomeranz, Chris Sale and Chance Ruffin.Of the 11 college pitchers selected in the first round of the 2010 draft, including supplemental picks, three have reached the majors:
• Left-hander Drew Pomeranz is 1-4 with a 3.79 ERA in eight starts for the Rockies this season. The fifth overall selection, he was traded last Aug. 16 by Cleveland to Colorado to complete the Ubaldo Jimenez deal.
• Left-hander Chris Sale, the 13th overall pick, is 11-2 with an AL-leading 2.11 ERA for the White Sox.
• Right-hander Chance Ruffin, selected 48th overall, went 1-0 with a 4.08 ERA in a combined 15 relief appearances for the Tigers and Mariners last season. This year, he is back in Triple-A, and is 0-4 with a 7.48 ERA while working in relief for Triple-A Tacoma.
Will Matt Harvey, selected seventh overall out of the University of North Carolina in 2010, be the fourth college pitcher from that draft class to make his major league debut? Mets executives will be on hand at Triple-A Buffalo on Monday night as Harvey faces Toledo trying to prove his readiness.
DRAFT CLASS
A look at the current levels and stats of the 11 college pitchers selected in the first round of the 2010 draft, including supplemental picks.
Here's what a couple of scouts who have seen Harvey recently say about his ability ...
SCOUT 1, who watched Harvey toss two scoreless innings in the Triple-A All-Star Game:
"I watched him last year in Binghamton, too. He's come a long way with his command. His control has gotten a lot better around the zone. He's got three plus pitches. The changeup got better, but the curveball and the slider are plus, to go along with he touched 97 mph at the All-Star Game. He pitched at 94 mph. It looks like you've got a good one there. I don't know if he's going to be a No. 2 or a No. 3 starter. It's going to depend on his command and how he handles the major league hitters.
"They can always use more development. I only saw a short look at him in the All-Star Game. It looks like his command is starting to get better. His walks have gone down considerably his last four or five starts. So maybe they're catching him at a time where they think he's ready. That's up to the Mets guys. But he's got the stuff.
"The changeup has improved. I had a below-average pitch when I saw him in Binghamton. I think it's closer to average now. The fastball, when he keeps it down, it's got some sink and movement to it. When it gets up, like everybody else, it flattens out. That's going to be up to him. But, you know, when major league hitters haven't seen him, and he's got stuff like that, if he doesn't hurt himself with command, he could compete with the arsenal he has.
"At 80-83 mph, he's got like a 'downer' curve. And it's really sharp. It's like a power curveball. And I don't know if his slider is more of a cutter, but at 86-87 he throws some hard that look like cutters to me, but a lot of guys call them sliders. It's got a little late break to it. He's got enough stuff to compete as long as he doesn't overthrow and hurt himself with command."
SCOUT 2, who last watched Harvey in mid-May:
"He needs to throw more changeups. He didn't throw many changeups the night I saw him. I know that's something they've been harping on. You've got to use it to develop it. You can't just rely on throwing 93 to 97 mph and expect to get big league hitters out. The same thing with his breaking ball. From what I saw he was close. He was headed in the direction, but he still has things to work on.
"I see him as a solid middle-of-the-rotation guy. I say he's definitely closer to the middle than he is to the back end, but I don't view him as a frontline guy. But I can see him being a solid No. 3 starter.
"I think you watch tonight and go with your gut instinct on what you see, and you try to envision whether he's ready to get big league hitters out."