Matt Harvey took a no-hit bid into the sixth inning before allowing consecutive singles to open the frame. Auditioning before Mets executive J.P. Ricciardi in what could be his final minor league start, Harvey ultimately limited to Toledo to two runs on three hits, four walks, a hit batter and a wild pitch in a 100-pitch effort spanning 6 2/3 innings.
The latter run scored when southpaw Justin Hampson, inheriting two runners in scoring position from Harvey in the seventh, surrendered an RBI single to lefty-hitting Justin Henry.
Asked if he feels ready for the majors, Harvey told reporters in Buffalo: "I do. Today I obviously wasn't happy with as many walks. I feel like my last couple of starts have been pretty good. And I'm feeling confident with all of my pitches."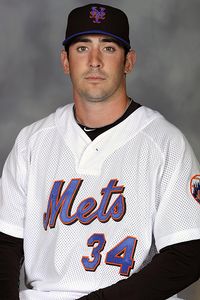 Courtesy of New York Mets
Matt Harvey
Said manager Wally Backman: "He pitched behind in the count. His stuff kind of got us in trouble in the third. I'm not sure that he's too happy with the performance he had, even though he threw a no-hitter through five innings."
Harvey, under consideration to take Dillon Gee's spot in the rotation beginning Saturday against the Dodgers at Citi Field, was working on a scoreless effort in the sixth with the bases loaded and one out. He then coaxed a potential double-play grounder to second baseman Josh Satin, but Satin fumbled the ball and had to settle for the out at first as the Mud Hens evened the score at 1.
Harvey issued four-pitch walks to open the second and fourth innings, but escaped both times unscathed.
"We've seen him for the last six, seven starts, and he's been pretty darn good and consistent," Backman said during an in-game interview. "Right now he's trying to attack the strike zone and use his changeup a little bit today, but he's throwing well."
Harvey had pitched two scoreless innings in last Wednesday's Triple-A All-Star Game en route to being named the most valuable player for the International League. But, otherwise, Harvey had lacked game action for 12 days.
Given the hype for this start, with the ramifications for joining the major league club, Backman said he told Harvey: "Just go out there and pitch the game you've pitched in the past. Just go out there and attack the hitters and don't worry about what's going to happen or what might happen. Just go out there and do your job and do it the way you've been doing it consistently. Matt is a smart kid. He comes from a good school [the University of North Carolina], and he knows what he's got to do."
Zach Lutz's sacrifice fly gave the Bisons a 2-1 lead in the bottom of the sixth. Harvey received a no-decision after Hampson allowed the inherited runner to score in the seventh.
"I think he handled it OK," Backman concluded about Harvey handling Monday's scrutiny. "He showed he can pitch himself out of a first-and-third, no-out jam. I think that's where his stuff really, really showed that he could get away with it. But I know that he's disappointed. He hasn't pitched behind in the count like that very often."
Said Harvey: "That's the biggest thing is I'm not trying to be Superman out there, because that's impossible. It's baseball. It's pitching. Obviously you're going to have to get a lot more sharp."