WASHINGTON -- Dillon Gee lost near-complete feeling in his right arm last Sunday and doctors could not find a pulse in the limb.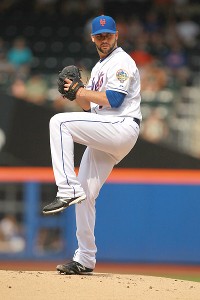 Mike Stobe/Getty Images
Dillon Gee said doctors could not detect a pulse in his right arm last Sunday.
Five days later, Gee underwent surgery at Barnes-Jewish Hospital in St. Louis to patch a damaged artery in his pitching shoulder that had been 96 percent blocked. Dr. Robert Thompson used a vein from Gee's groin to enlarge the artery.
Gee was discharged from the hospital Monday. He may resume throwing in six weeks and hopes to return before the end of the season.
"Right now I feel good," Gee said. "My arm feels good. All the symptoms are gone. So that's a positive. It's been a long week for me. This thing kind of came out of the blue and hit me really fast. To be honest with you, it was very scary at first, kind of tough to go through."
Medical personnel told Gee his life was never endangered. Had the clot in his shoulder dislodged, it would have traveled no further than his pitching hand and got stuck.
However, had he not treated the issue when he did, Gee could have suffered permanent muscle-tissue damage that may have jeopardized his career.
Gee said he had "very sporadically" experienced numbness in the tip of his right middle finger since 2010. Doctors informed him the artery damage likely was the result of his repetitive pitching motion. He has follow-up visits scheduled in three weeks and in six weeks and hopes to be cleared during the latter exam to resume throwing.
Read the full news story here.