WASHINGTON -- Jason Bay said he had no objection to Terry Collins pinch-hitting for him in the ninth inning Tuesday.
Bay noted it was not like he had much of a leg to stand on after going 0-for-3 to that point in his return from the disabled list. The performance dropped his season average to .179.
Jordany Valdespin, batting for Bay, delivered a three-run homer against Tyler Clippard to give the Mets a one-run lead in the ninth, although the Nats ultimately won 5-4 in the 10th.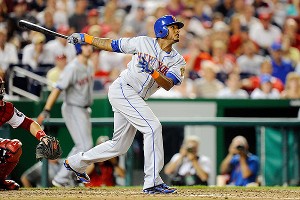 Greg Fiume/Getty Images
Hitting for Jason Bay, Jordany Valdespin delivered a three-run homer against Tyler Clippard.
"He told me when I came in that if my spot came up, he was going to pinch hit for me," Bay said. "Given the way I'm swinging it, I'm not really in a position where I can argue with him. We're in the business of winning games right now. That's the reality."
Didn't the competitor in him want to hit?
"Absolutely," Bay said. "But you don't really have an argument there. Had I been doing better, or had I been around swinging the bat well, I could say, 'Hey, what's going on?'
"Obviously you want to hit. You want a chance to do something well. But there's no way I could argue."
Said Collins: "He hasn't been here in a while. That was not the easiest thing in the world to do. Make no mistake about it, because we're going to need Jason Bay in the lineup and need to get him going. I just thought at that time a left-hander had a better shot."
Bay, who was 3-for-16 in five games on a rehab assignment between Class A St. Lucie and Triple-A Buffalo, insisted he was not rusty on Tuesday night. Instead, he tipped his cap to opposing pitcher Ross Detwiler.
"He only gave up like four hits," Bay said. "I actually felt good. I saw the ball well. Just the two-seamer was filthy. We didn't really do a whole lot."
Collins certainly has license to sit Bay on Wednesday against Nats right-hander Jordan Zimmermann. But the manager said the plan was to start Bay all three games of this series, not start platooning him from the get-go upon Bay's return from the DL.
"He hasn't had a lot of at-bats, so I just thought tonight we had a shot at it," Collins said about Valdespin on Tuesday being the exception.
Valdespin now has 18 RBIs in 78 at-bats this season, including a pair of pinch-hit three-run homers in the ninth off NL East closers.
He's 3-for-20 as a pinch hitter this season. All three hits have been homers. The others: off Jonathan Papelbon in Philly on May 7, then against Zimmermann in D.C. on June 5.
"He's an aggressive guy," Collins said. "He goes up there to take a big swing. I thought he did a good job. After the first two changeups, I think he was sitting on a changeup and got one and put a good swing on it."
Said David Wright: "I think he's full of confidence. He believes that he belongs here. He puts up about as good an at-bat as a pinch hitter that I think I've ever seen. It just seems like he goes up there and puts good swings on the ball and comes up with some huge hits for us obviously."
Valdespin acknowledged he was looking changeup from Clippard.
"I said, 'This is the best pitch of his,'" Valdespin said. "I want to hit the best pitch. He threw me the changeup up."