Zack Wheeler and Matt Harvey rightfully get the hype. Beyond them, however, other high-level minor leaguers are knocking on the door of the Mets' rotation.
Right-hander Collin McHugh, who moved from Double-A Binghamton to Triple-A Buffalo in mid-June, is included in that under-the-radar group.
One NL team nearly grabbed the 25-year-old McHugh in last December's Rule 5 draft for bullpen duty at the major league level. McHugh surely will be selected this winter if the Mets do not protect him, so the organization figures to add him to the 40-man roster after the season.
Scouts often compare McHugh with Dillon Gee. And McHugh believes those comparisons are fair. In roughly a full season at Double-A spanning two calendar years, McHugh went 13-7 with a 2.68 ERA and had 165 strikeouts and 49 walks in 168 innings.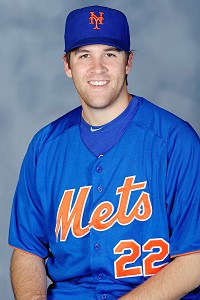 Courtesy of New York Mets
Collin McHugh
"I've seen him pitch a few times in spring training, and a couple of years ago I saw him pitch a little bit," McHugh said. "I think for the most part the comparisons are pretty well-founded. We both throw four pitches -- curveball, slider, changeup, fastball. He's got a little more of a sinker than I do. I probably have a little bit more of a curveball than he does. Otherwise, it's pretty similar.
"Actually, he's got a much better changeup than I do, too."
Wally Backman, while managing McHugh last year in Binghamton during the second half, said the right-hander had the best control on his staff. That's important for McHugh, who has four pitches but not eye-popping velocity.
"Major league average is like 90-point-something miles per hour on your fastball. I'm pretty much right there," McHugh said. "For a righty, I'm probably right in the middle. The most important thing for me is command.
"Here's what I learned the last couple of years: It's not necessarily having to 'paint' every pitch, having to put a fastball on the black or a curveball just below the knees every time. It's learning to command the strike zone better, keeping people off-balance, mixing your pitches well. I watch in the big leagues every day when I'm flipping channels or watching SportsCenter. You see guys miss mistakes. That's the way it happens. But when you get hurt, usually it's by missing in the strike zone, mistakes in the middle of the plate."
In the interim, McHugh also is making a name for himself in the literary world. His witticisms are on display on his blog "A Day Older, A Day Wiser," where he relays his minor league experiences. He also does so on Twitter (@Collin_McHugh).
Some of his recent tweets include:
• So we're from GA...I'm allergic to peanuts and my wife is allergic to peaches. God's geography based humor is way underrated.
• So @MattHarvey43 had more followers than me in roughly 15 minutes. If you need me or my ego, we'll be unavailable for the foreseeable future
McHugh said his literary career may have been launched with a punishment while attending Berry College in Rome, Ga.
Upset freshman male students had to park a half-mile from their dorms, while other students had parking adjacent to their living arrangements, McHugh accumulated on-campus parking tickets his freshman year.
"I inevitably left my car in places I was not supposed to leave my car, and got tickets upon tickets upon tickets," McHugh said. "I ended up getting 'booted' twice that semester. And I had to go see the dean of students. The discipline that they handed down to me was to do research on four other universities in the state of Georgia and their parking systems and then to write an editorial for the paper on it. I thought, 'Oh, this is going to be great.' I'm going to look up all these statistics and have all this information. I'm going to write this scathing article about how it's so unfair."
To his disappointment, the parking fees at Georgia, Georgia Tech and other institutions were 10 times the $25 per semester Berry charged.
Said McHugh: "I ended up writing a pretty much blasé article about, 'I was wrong. This is right. Freshman guys don't sweat it.'"
But a literary career was launched.
"That's pretty much how it started," McHugh said. "I remember thinking this is a weird punishment for somebody who actually enjoys writing. I've never been good at math. I'll say that, which is totally stupid why I became a finance major in the first place."
He pitched for Kingsport in 2008 after being taken in the 18th round in that year's draft, then spent his first offseason as a pro ballplayer in Athens, Ga., doing concert reviews and other writing for a local creative magazine. He ended up starting his own blog after that.
As for the one-liners he dispenses on Twitter, McHugh says he's not taking those to a comedy club.
"It's way more easy to have confidence when you're behind a computer and limited to 140 characters than to try to stand up before actual people and make actual people laugh," he said. "… If I flopped, I just don't know if I could handle it."
LOOK FOR PART II OF THE FARM REPORT AT NOON, WITH ORGANIZATIONAL STATISTICAL LEADERS AND PLAYER NOTES.
Adam Rubin's farm report appears Wednesdays during the regular season