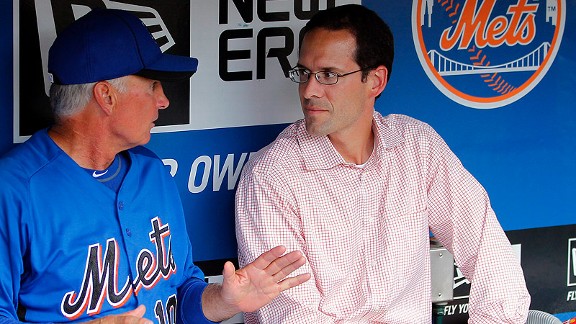 Paul J. Bereswill/Associated Press
Paul DePodesta, pictured with Terry Collins, talked about minor league prospects and the Mets' development system with ESPNNewYork.com.
Mets VP of player development Paul DePodesta discussed the state of the farm system and recent signings with ESPNNewYork.com.
Here's Part I:
Q: The commonly held belief in baseball, it seems, is that 30-inning jumps in inning workload year to year is the maximum. Is that your philosophy, too? And to apply that to Zack Wheeler, if he threw 115 innings last year and has 101 2/3 plus the Futures Game this year, is he going to max out before the season's end?
DePodesta: "That 30-inning level is probably a good guidepost, but I think we try to be a little more individualized than that. For instance, Zack has had some appearances this year where he's thrown seven, eight, nine innings and has done it in fewer than 100 pitches. In other instances, if he had thrown 100 pitches in five innings, that might actually be a lot more taxing than those appearances he had that actually tacked on a few extra innings. So I think we look at everybody on a very individualized basis. As a general rule of thumb, 25- or 30-inning increases are about what we shoot for."
Q: In New York, the prospects get hyped. And it's good in a way in terms of generating fan excitement, and perhaps even creating a market with other teams to deal the players at peak value. Do you worry, though -- say with Matt Harvey, but also more generally -- that if he comes up and has a productive major league career but he's not Stephen Strasburg that on merit he would have done really well and yet the expectations will be so great that he can never live up to them?
DePodesta: "I'm concerned about it on that front, I think, with a lot of players, just in general. I think sometimes expectations can be unrealistic for these guys, even from the time they're drafted. The baseball draft is very different from the NBA or the NFL. These players aren't ready to perform at the highest level when they're drafted, even when they're drafted very high. And the attrition rate, even very high up in the draft, is staggering. It might be 50 percent of first-rounders that actually become good major league players. And that probably drops by half once you get into the second round. And it probably drops by half again when you get into the third round. Those top-round picks, there still is an awful lot of fallout.
"So if a guy becomes a solid No. 3 or 4 starter, and that was your first-round pick, you should be very, very happy. You won on that pick. But I don't think that's generally the expectation. I think people think of first-round picks and expect to have a potential superstar. That's actually very rare. It just doesn't happen very often. But, generally, sometimes we can get a little too excited about somebody's talent.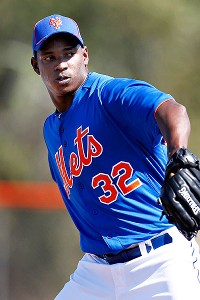 Jeff Roberson/Associated Press
DePodesta implied Jenrry Mejia could head back to starting soon, even if that is not his long-term home.
"I think Bobby Parnell is an example. Here's a guy who, if you were to look objectively from the outside, he's a good major league pitcher, right? He's got a 3.00 ERA. I think he had about a 3.50 ERA last year. But because he can throw the ball 99 mph, people expect him to be even better than that. I'm not sure that's entirely fair to him, and maybe not productive ultimately for his career.
"And the same goes for any of these prospects. They may have an extraordinary skill or an extraordinary tool, and therefore we expect them to be extraordinary overall players. And when they turn out to be good major league players, or even above-average major league players, that somehow falls short of that extraordinary expectation. And, yeah, I absolutely think that can be detrimental in the long run."
Q: Is there concern specifically with how the Harvey thing played out? I mean, it just worked out that the game was televised on SNY on a Mets off-day. But it was framed, rightly or wrongly, as an audition, so it almost seems like it's a failure that he's not pitching Saturday in New York, even if the intention was to give him another month in the minors.
DePodesta: "I don't think it really had anything to do with how he pitched on Monday night. The fact is he's had 19 auditions so far this year. And he's had about 165 innings of auditions in the high minors -- Double-A and Triple-A -- over the last two years. I think Sandy [Alderson] has always talked about our plan. We're going to stick to our plan. And individual development plans of these players for their long-term good and for the organization are going to run independent of the immediate needs of the major league level.
"Now, is it a circumstance at this point that our major league need and Matt's readiness are converging? Yeah, that may be. But I don't think we're going to let one sort of dictate the other. We're not going to let those major league needs dictate Matt's readiness.
"Hey, maybe it's one start away. Maybe it's two starts away. But we're going to try to pick the best time that we think gives Matt the best chance to be successful at the beginning of his major league career."
Q: What is the organization's take on Jenrry Mejia's struggles in the bullpen? And I suspect you don't want to shuttle him back and forth between starting and relieving, so is he working in relief for the foreseeable future?
DePodesta: "Not necessarily, but I think you make a good point. We don't necessarily want to keep going back and forth. Jenrry is in a tough spot because he's still really coming back from Tommy John. I think we're all thrilled right now that he's out on the mound and he's competing in such a short period time. Where is he now? Fourteen months off of surgery. They generally say players are lucky if they're back on the mound in 11 or 12 months. But the reality is their command and full game, it's usually closer to 18 months. So in my mind, the primary goal for Jenrry throughout this season has always been to get through the season healthy, get back on the mound and get to a point where he can repeat his mechanics and feel comfortable doing so, and feel comfortable that he's going to remain healthy.
"Now there's probably a debate about how that's best accomplished -- whether it be with him in the bullpen or him in a starting rotation. I think we've wrestled with that a little bit. But I think whatever decision we make here going forward, we're probably going to stick with through the end of the year, for the reasons you stated. We don't want to keep having him go back and forth.
"The one detriment so far of him being in the bullpen is he's had a mentality of just trying to throw harder, just trying to throw the ball by guys as opposed to pitching. That certainly wasn't the intention or the goal of having him in the bullpen."
Q: If he were to move back to starting this year, which sounds like it may be the case, that wouldn't necessarily be an indication that's his final role, correct? That's just because that would optimize his workload and development in terms of getting ready for a major league career?
DePodesta: "I think you put it perfectly. It's not necessarily what his long-term role is going to be. But it would be what we think is best for his long-term development, regardless of what his ultimate role may be."
Check back for Part II of the Q&A with DePodesta at 4 p.m.