Mets VP of player development Paul DePodesta discussed the state of the farm system and recent signings with ESPNNewYork.com.
Here's Part II:
Q: You identified Josh Edgin a year ago, when he was in Class A, as an under-the-radar prospect who could reach the majors fairly quickly. Are there any players in the lower levels of the minors, or unheralded, who might fall into that category this time?
DePodesta: "I don't like making those predictions often, especially after they come true. Not necessarily. I do think there are some guys who are certainly under the radar for us that have a chance to come pretty quickly and that have done a really nice job this year in various roles. Predicting when they're going to come to the big leagues is incredibly difficult. And it's not always dependent just on their performance. But certainly guys like Cory Mazzoni, Rafael Montero. There are certainly some interesting bullpen arms that we have, too, that have had very nice years. Those are at least some arms that we have that haven't gotten quite the attention of some of our bigger names, but are guys who could continue to move closer next year. Not necessarily to the big leagues, but I think be closer and closer."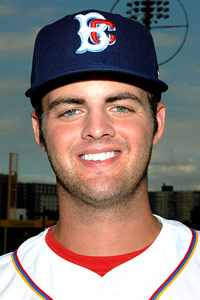 Courtesy of Brooklyn Cyclones
Cory Mazzoni
Q: You gave 16-year-old shortstop German Rosario $1.7 million out of the Dominican Republic this month. That's the highest international bonus ever by the organization. What did you see?
DePodesta: "It was really the total package. Certainly on the field he was extremely athletic. I think he has a chance to be a plus defender, almost no matter where he plays. Even if he outgrows shortstop, which is certainly a possibility, just his actions and instincts on the field are extraordinary. He has a chance to hit for enough power and do enough damage to probably play anywhere on the field. But I really think he has a chance to be sort of dynamic player that will contribute both offensively and defensively.
"The other part of the package, which really was just as important to us, is he's a very smart young man. He's highly educated. He just did graduate high school, which is pretty rare for players in that marketplace. His father is a judge. One of his sisters graduated from law school. The other one is in law school. His mother is a college graduate. I mean, it's a highly educated family.
"I think he's very well grounded. I think he's very mature. He's just different, quite frankly, than most kids in that marketplace. And I think it was all those qualities combined that really attracted us to him and made us feel like he was worth the gamble."
Q: Broadly on the draft, how did the new rules that give you a pool of money to allocate to your picks fit for you? And, for lack of a better word, were you able to find ways to exploit the system and find avenues to accomplish what you sought?
DePodesta: "I think we did. I think we were happy with what we were able to do. It's going to have to change from year to year because a club's standing within the draft can change dramatically from year to year, just because the financial leverage that is either available or not is so significant in terms of what you're able to do. I think this year we were very happy overall with what we were able to do. It still came down to trying to identify the right players and trying to put yourself in a position to get as many of those guys as possible."
Q: Was it your intention not to sign second-round pick Teddy Stankiewicz in order to use that slot money to apply to other picks?
DePodesta: "It came down as much to looking to next year's draft as anything else. We certainly liked Teddy quite a bit -- enough to take him where we did. But the situation is now that we get that pick next year. And, I think, just as importantly we get that cap space next year. Realistically, we're not going to have as much cap space next year as we had this year. But having that additional pick next year will hopefully give us a chance to be much more competitive in next year's draft, even if the major league team continues to play very well. We obviously won't have any extra picks for the loss of free agents [per the new collective bargaining agreement]. So I think we were looking at a situation where our cap was going to drop dramatically and decided not to sign Teddy. It should make us more competitive in the draft next year."
Q: Last topic: I'm sure everybody takes a lot of pride in the contributions from the farm system to the current major league team. But those young players predated you with the organization. Obviously development is one component, so how much credit do you/your regime deserve for producing those players compared with what you inherited?
DePodesta: "I don't know. As you noted, all of these players predated us. For that matter, most of the staff on the minor league side predated us. I mean, we made very, very few changes in staff over the course of the last couple of years. We did bring in Dick Scott as our field coordinator. We have brought in a new pitching coordinator. I think there are some processes that we've pushed pretty hard throughout the minor leagues. To the extent that's had an impact, I don't know. And I wouldn't want to say or take away anything from all the work that was done with these guys beforehand.
"When we first came aboard, I think I remember saying I think the system was a lot better than I think people were giving it credit for. And I think that's born out. There were a lot of good players here. Our job on the development side is to try to maximize the abilities of those players. And I'm proud of the job development has done, both before I was here and also since we've been here. And I do think Dickie Scott has done a terrific job in leading that charge on the field at the minor league level."