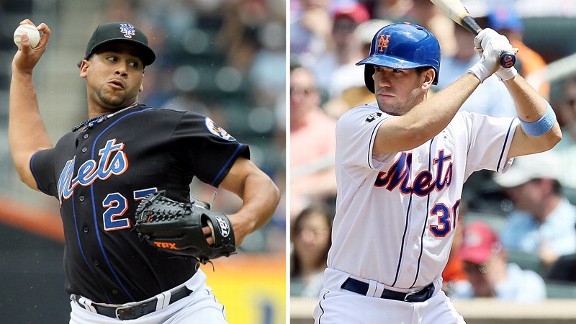 Jim McIsaac/Getty Images
Pedro Beato apologized to Josh Thole on Wednesday, a day after wondering whether the catcher could have blocked a game-ending wild pitch.
WASHINGTON -- Pedro Beato apologized to Josh Thole even before they arrived at the ballpark Wednesday, hoping to avoid any confusion over his intention with a postgame comment Tuesday.
Beato, who threw a game-ending wild pitch, noted he yanked the curveball and bounced it wide of the plate. Beato also noted Thole was unable to block it.
Concerned that left the impression he was throwing Thole under the bus, Beato reached out to Thole.
Thole said the whole episode really was no big deal.
Beato had said Tuesday night, after the 5-4, 10-inning loss to the Nats: "I tried to get it down … on the floor, so he can swing over it. And I yanked a little too far. Unfortunately, Thole wasn't able to get to it and it got away from him."
Terry Collins was concerned enough about the comment, and about the psyche of his team during this five-game losing streak, that he did plan to address the players pregame. Collins said he has not held a team meeting in about a month, and likes to hold them only infrequently because otherwise the players tune them out.
"We're going to talk about, 'Hey, look, this is a tough time right now. The one thing we've done in the past, that we talked about in spring training, we're going to do it together. We've got your backs. Let's go,'" Collins said. "We've got to grind this thing out, because that's how we got to this point. This is an important part where this thing can go flat. We're not going to let it."
Collins continued, referring to the Beato quote without explicitly naming it: "I didn't like what I saw happen after the game last night. I read that one of our players said something that he shouldn't have said. I didn't like that quote. So we're going to address it today. I talked to him about it already. He didn't mean it to come out the way it came out. So we're going to make sure it's addressed in a little bit, because we can't let that happen. We can't let that drive a wedge in this thing. We've worked too hard to get it going smooth."
Collins, incidentally, did not think Thole had much of a chance to block Beato's wild pitch.
"I thought it was really a tough one -- really a tough one," Collins said. "I understand Pedro wanted to get it in the dirt. I think he just pulled it a little bit and made it a tough play."