WASHINGTON -- Terry Collins said Jason Bay does not have exclusivity in terms of being the left fielder, but the manager reasoned that it made sense to start him because of the starting pitcher.
No, he did not mean Nationals right-hander Jordan Zimmermann. Collins meant Mets starter Chris Young, who is a fly ball pitcher.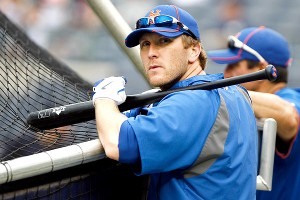 Debby Wong/US Presswire
Jason Bay starts over Jordany Valdespin in left field on Wednesday.Collins said he needs to maximize his outfield defense for Young.
"He's such a fly-ball guy," Collins said. "He's had a couple of outings where some balls, we thought might have had a chance to have been caught."
Right field was not an option for Jordany Valdespin, since Collins wanted to get Lucas Duda back in the starting lineup for the first time since Friday, with Duda's left hamstring appearing to have calmed.
"In this ballpark, left-handed bats, guys with some power, can be dangerous," Collins said. "So I wanted to get him back in there."
Asked if Bay was an everyday player, Collins said: "I'm going to mix and match a little bit. I talked to Jason today about it. I told him, 'Look, you're back in there. And you're going to be back in there tomorrow [against left-hander Gio Gonzalez]. We've got to start getting you to seeing this kind of pitching.' As we've talked about in the past, when you're seeing Triple-A pitching, you forget how good the next level is. So we've got to get him back in there and see if we can get him going."
Collins mentioned Valdespin and Kirk Nieuwenhuis getting starts in left field at Bay's expense.