WASHINGTON -- Despite Miguel Batista surrendering a costly two-run double to Steve Lombardozzi, which turned out to be the decisive runs in the Mets' 4-3 loss to Washington on Wednesday night, Terry Collins reiterated that Batista is the organization choice for Saturday's start against the Los Angeles Dodgers.
"We thought tonight, with who was coming up, that it was good to get him an inning, to get him ready for Saturday," Collins said. "You know, he's pitched good when he starts (1-1, 4.00 ERA in four starts). Maybe it's getting ready. Maybe it's the pregame prep that makes him pitch better. I can't answer that just now. We're going into Saturday knowing this is when he's had the most success. We're going to see how he does."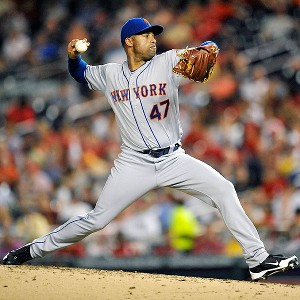 Joy R. Absalon/US Presswire
Miguel Batista, in slight hyperbole, declared the Mets the best team in the majors.
Batista, who said he was uninjured when a comebacker grazed the outside of his right leg during the seventh inning, went on to say that the Mets are the top team in the majors if only they believe in themselves -- better than than the Nats.
"Our team is going through a bad stretch right now," Batista said. "But my personal belief is we're way better than our numbers are. Baseball is living proof that who you might not expect might be there in October. I know a lot of people didn't expect us to be as good as we have this year. But I believe this team is way, way better than what it's been playing. And regardless of the fact what other people might think, October is not here yet. We'll see at the end of the season. ...
"Right now they're playing good baseball, but I don't believe they're a better team than us," Batista continued, referring to the Nats. "They're playing great baseball. But better team? I believe we're the better team. We just have to play as we're supposed to. Every team goes through a bad stretch, from the greatest to the worst. I remember I told Terry two month ago: 'I haven't seen a team better than us.' ... We just have to believe how good we are and just go out there and perform. I believe we are the best team in baseball. We just have to play like one. That's what we're not doing."
Collins had held a pregame meeting to pump up his Mets, who now have lost six straight. The manager added that no players spoke during the meeting.
"I said, 'Quit worrying about who we don't have. You worry about who's sitting in this room, because this is who has gotten us here. This is what's going to have to move forward,'" Collins said. "There are no saviors. We're going to have to make sure that these guys understand they've got to just continue to battle and battle and battle and get out of this and go win six in a row. That's the only way you can play.
"As you guys know, one of the things I thought that's been a key here is that we've had a great clubhouse. And anytime things aren't going well, all of a sudden you can have some issues in there. We addressed them today.
"Just to keep battling, pretty much," Collins continued, referring to his message. "And one thing I want these guys to understand: There's accountability here, and we don't point fingers at anybody. We all stand up and when things aren't going well we take our licking. We watch each others' backs and keep moving forward."