The Mets have lost eight of their last nine games and dropped to .500 for the first time since May 4.
But despite all of that, Miguel Batista still thinks they are a better team than the first-place Nationals.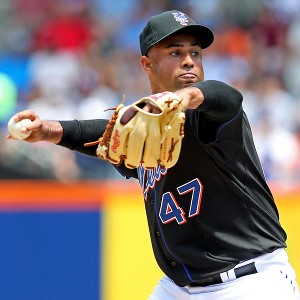 Brad Penner/US Presswire
Miguel Batista lasted three innings and took the loss.
"Like I said, Washington is playing better than us," Batista said after the Mets lost 8-5 to the Dodgers on Saturday afternoon at Citi Field, "but I don't believe they're better than us.
"Their bullpen has better numbers, but one by one, when you match every player, we're supposed to be better than them."
Batista, who needed 81 pitches to get through three innings of four-run, five-hit ball on Saturday afternoon, said earlier this week that the Mets were the best team in baseball.
"We just need to do it. We have a great team, we just have to play like it," Batista said.
The Mets (47-47) trail Washington (53-39) by seven games for the top spot in the National League East. They recently lost starters Dillon Gee and Johan Santana to injury, and are trying to patch together their pitching staff. The Mets rank last in bullpen ERA (4.95) and 13-22 against left-handed starters this season.
"We've hit our losing streak, we just haven't hit our winning streak," said R.A. Dickey, who gave up an eighth-inning, two-run homer to Juan Uribe in his first official appearance out of the bullpen since April 17, 2011. "Hopefully we can hang on and churn a few out in a row.
"We haven't been able to get to a place where we win eight out of 10 or seven out of eight, and hopefully that's coming."
Said Terry Collins: "We've got to keep fighting. Our clubhouse is filled with guys who understand. We're doing the best we can right now, and it's just not good enough."