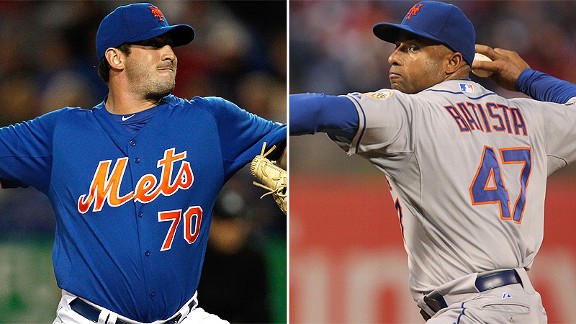 Getty Images
Matt Harvey looked poised to replace Miguel Batista in the Mets' rotation Thursday in Arizona. Now? It's a tougher call.
Matt Harvey, who is lined up to start in place of Miguel Batista on Thursday in Arizona, made the decision more complicated.
Harvey allowed six runs on seven hits, two walks and a hit batter in five innings Saturday night. He walked two, struck out six and threw 96 pitches, 61 for strikes. The Bisons were shut out by Charlotte, 11-0.
Harvey (7-5, 3.68 ERA) gave up a three-run homer to Dallas McPherson in the third and a two-run shot to Justin Greene in the fourth.
Given that he threw so many pitches, Harvey can essentially be ruled out for Wednesday. He would be on regular rest to start Thursday in Arizona.
"I'm sure it's had an effect on him. There's pressure on him, no?" Buffalo manager Wally Backman told Mike Harrington of the Buffalo News. "But there's a lot more pressure when you get to the big leagues. ... It is a learning process for him, and I know that it's in his head. I've talked to him, tried to calm him down."
Harvey told Harrington: "Major league talk is not in my brain right now. I should have pitched better tonight for this team. Tomorrow I'm going to wake up, come here, do my work and get ready to pitch in Louisville. That's my mindset."