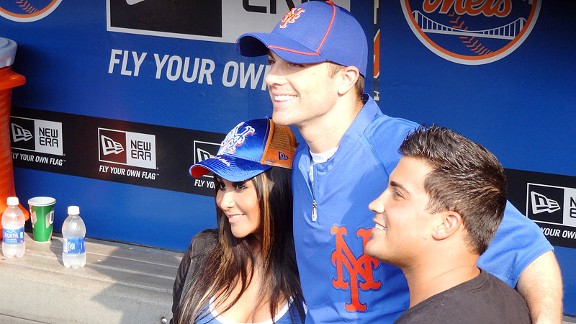 Adam Rubin
Snookie, fiancé Jionni LaValle and David Wright meet in the dugout pregame Monday.
Snooki met the Mets on Monday.
"Jersey Shore" star Nicole (Snooki) Polizzi posed for photos on the Citi Field outfield grass, met David Wright in the dugout and planned to do some play-by-play of the Mets' series opener against the Washington Nationals on Monday night along with fiancé Jionni LaValle during a visit to see her favorite team.
Snooki said she's been a devout Mets fan since Bobby Valentine's days as manager and the march to the 2000 World Series.
"I really, really loved the Mets and was obsessed in the early 2000s, when we had Valentine," Snooki said. "So I loved [John] Franco and Robin Ventura. All of them. I was like obsessed."
Snooki said she attended one Mets game last season. She was a regular at the team's former home.
"Shea Stadium I always went to," she said.
She described herself as a semi-sophisticated baseball fan.
"I try to. He definitely helps me out," said Snooki, motioning to fiancé Jionni. "Baseball is like the only sport that I do follow."
What are the hopes for the Mets, who dipped below .500 for the first time this season on Sunday and have lost nine of their past 10?
"I always think they have a chance," Snooki said. "I feel like that's the Mets fans -- they always believe that they're going to turn it around and do good. And sometimes they don't. But I'll still be a Mets fan no matter what."