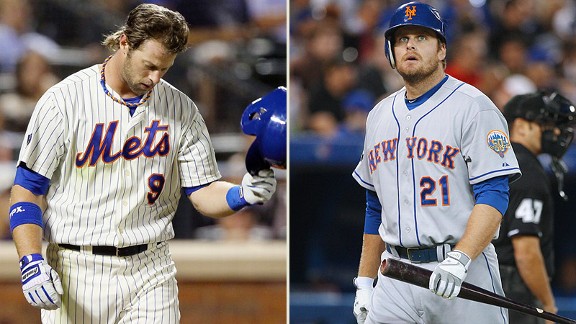 Getty Images
Kirk Nieuwenhuis looks like he'll be spared, with Lucas Duda most likely to be demoted to make room for Tuesday's activation of Matt Harvey, according to a team source.
Sandy Alderson wanted no part of the discussion, acknowledging only that a position player logically would be expected to be affected by Tuesday's activation of Matt Harvey, since the Mets have been carrying an extra bench player.
#21 RF
New York Mets
2012 STATS
GM

89

HR12

RBI44

R37

OBP.335

AVG

.241
Still, there are strongly rumblings Lucas Duda will be headed to Triple-A Buffalo when the Mets make that roster move in the next 24 hours. A team official said there had been no firm determination, and that there were two options under consideration. He did not identify the alternative, but Kirk Nieuwenhuis seemingly is that candidate.
While it is likely Duda headed to Buffalo, a team official stressed that whatever happens, the position player must not view it as a demotion. It must be viewed as an opportunity to get on track in less scrutiny with an eye toward returning with an ability to contribute.
Duda did not start Monday against Jordan Zimmermann as Jordany Valdespin started in right field for the first time in his major league career. Valdespin now is expected to get a serious look against right-handed pitching.
Duda is 2-for-22 in the Mets' past 10 games.