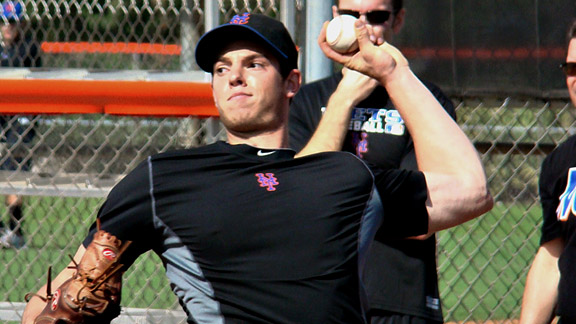 Adam Rubin
After a lengthy rehab from Tommy John surgery, 2009 top pick Steven Matz finally is on track.
Three years after the Mets selected Steven Matz with their top pick in the 2009 draft (second round/72nd overall), the left-hander from Long Island finally has appeared in a minor league game.
Matz, who graduated from Ward Melville High School and still lives in Stony Brook with his family during the offseason, made his official professional debut June 20 with the Kingsport Mets at Princeton, W.Va.
In five Appalachian League starts, the 21-year-old left-hander has now posted a 1-1 record and 1.96 ERA.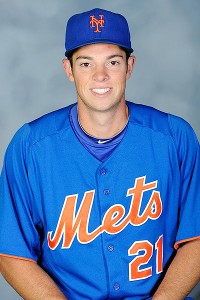 Courtesy of New York Mets
Steven Matz
"It feels great to just get back out there again," Matz said. "It's been so long, it was a little nerve-wracking in the beginning. … I kind of had the butterflies out there pitching competitively again. I mean, in extended [spring training] you're facing hitters, but it's not really competitive."
Matz is a reminder that not every recipient of Tommy John surgery is back in games 12 months post-op.
Nine months after being drafted, Matz required the elbow procedure on May 18, 2010. Early last season, Matz had resumed mound work in Port St. Lucie. He had logged six innings in extended spring training and seemed on track to appear in official minor league games. By last July, however, Matz had been sent back home to Long Island, after input from Mets doctor David Altchek as well as James Andrews.
Matz's 2011 return had been halted after micro-sized muscle tears in the left elbow area were discovered. Those were considered a nuisance, not overly alarming. The Tommy John repair itself appeared intact.
"I guess it was like scar tissue that was trying to break up and giving me problems in my elbow," Matz added. "It just felt uncomfortable for a long time until it finally broke free."
Now, Matz is sitting at 92-94 mph with his fastball. One game he topped out at 95 mph. Another game, 96-97 mph. He also throws a curveball and changeup, and has just started incorporating a two-seam fastball.
Matz has allowed 14 hits and 10 runs (five earned) while walking 14 and striking out 26 in 23 innings, but even that does not tell the recent success. In his two most recent starts, Matz has tossed 12 scoreless innings while limiting Pulaski and Greeneville to a combined three hits.
"Consistently my velocity is up higher. The numbers I touch are higher, too. My velocity has definitely gone up since pre-surgery," Matz said.
Matz mostly attributes that to just growing and refined mechanics, not anything particularly related to the surgery. It has been more than three years since he was a teenager drafted out of high school.
Matz said one area of focus is trimming his walk total.
"It's starting to come together a little bit," he said. "When I was out there in the beginning, the game really does speed up on you and I just started walking guys. That's one thing I've been working on -- just slowing myself down and not getting too anxious on the mound."
That's why, as much as being assigned to Brooklyn would have been a nice storyline for someone from Long Island, he is thankful to be assigned to Kingsport in Tennessee.
"I actually really like it down here," Matz said. "It's a great experience to be in Kingsport. The goal was to go to Brooklyn, but I definitely don't think I was ready for that, considering that my walks have been high. I'm learning a lot down here with the pitching coach, [Jonathan] Hurst, so I'm really happy I came to Kingsport."
LOOK FOR PART II OF THE FARM REPORT AT NOON, WITH ORGANIZATIONAL STATISTICAL LEADERS AND PLAYER NOTES.
Adam Rubin's farm report appears Wednesdays during the regular season