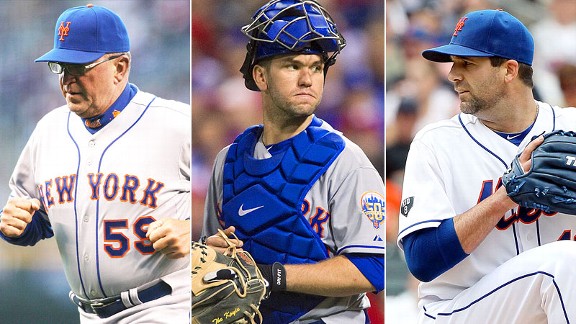 Getty Images/US Presswire
Dan Warthen and Josh Thole drew the ire of Tim Byrdak over pitch selection Wednesday.
PHOENIX -- After a 5-2 loss to Washington on Wednesday, the Mets had been swept in consecutive three-game series at Citi Field by the Dodgers and Nationals. It marked the eighth time in franchise history the Mets produced a winless homestand of six or more games.The Mets now head into Matt Harvey's debut against the Diamondbacks having lost 11 of 12 since the All-Star break. They are a season-low four games under .500.
Thursday's news reports:
• Tim Byrdak clashed with Josh Thole and then pitching coach Dan Warthen after surrendering a homer to Adam LaRoche in the homestand finale. The incident helped prompt a postgame team meeting and tongue-lashing from Terry Collins. Getting the sign from the bench, Thole called for a fastball to LaRoche. Byrdak twice shook off Thole wanting a breaking ball, but the catcher continued to call for a fastball. Byrdak eventually threw a fastball over the heart of the plate -- not where Thole set up on the outside corner. LaRoche deposited the pitch into the right-field stands for a two-run homer in the seventh inning to provide the Nats with a four-run lead. In the dugout afterward, Byrdak first had an exchange with Thole, then with Warthen, the latter of which prompted David Wright to intercede. "I don't think anything can get any worse than this right now," Thole told reporters before the Mets departed for Arizona. "I can't wait to get out of here." Read more on the incident the Post.
Writes columnist Bill Madden in the Daily News:
Afterward, a heated Collins, while vowing such miscommunication will not happen again, made it clear he would not tolerate his players showing each other up. Without ever mentioning Byrdak by name, Collins talked about "standing up and being a man" and "accountability" while promising, "we're gonna see a different team the next two weeks and we're not gonna make any excuses."
This was the second time in a week that Collins had to come to the defense of Thole. Last Wednesday, the manager called a team meeting in Washington following a 5-4, 10-inning loss to the Nats that was decided on a wild pitch by Pedro Beato, who inferred afterward he thought Thole should have blocked the pitch. "Emotions happen out there," Thole said after Wednesday's debacle. "It's what happens after you lose 11 of 12 or whatever it is. I was caught off guard with it a little bit, but everything's good."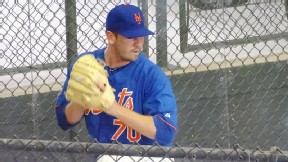 Adam Rubin
Matt Harvey makes his major league debut tonight against the Diamondbacks.
• When Harvey arrived at Citi Field on Monday, three days before his scheduled major league debut, Sandy Alderson and Collins met with the 2010 first-round pick and told him not to try to be a savior. With the Mets on their second six-game losing streak in two weeks, though, the Mets desperately need a quality performance from the UNC product, who was selected seventh overall in the same draft in which Bryce Harper was the top pick by Washington.
Harvey, 23, went 7-5 with a 3.68 ERA in 20 starts with Triple-A Buffalo. In 110 innings, he allowed 97 hits, walked 48 and struck out 112. In his final minor league start, Saturday against Charlotte, Harvey was touched up for six runs on seven hits, two walks and a hit batter in five innings.
Steve Serby in the Post did a Q&A with Harvey. If Harvey, a Yankees and Patriots fan growing up in Connecticut, could have three dinner guests, they would be: Jennifer Aniston, Derek Jeter and Michael Jordan. "He was my idol growing up," Harvey told Serby about Jeter. "I loved the way that Paul O'Neill played. And I loved how everyone respected Derek Jeter for the person that he was and the stand-up guy that he was -- the hard worker and the gamer, and he did it day in and day out, never showed anything, never did anything bad in the media or anything like that. People looked up to him everywhere he went. He was like every kids' idol growing up. Just getting a chance to talk to him and see how he handled everything and how he went about his business, I think that would be helpful."
Read more on Harvey's debut in the Hartford Courant, Post and Newsday.
• The Mets continued to shuffle the roster on the margins. A day after officially demoting Pedro Beato and Lucas Duda, Mike Nickeas was dispatched to Triple-A Buffalo. Fellow righty-hitting catcher Rob Johnson will replace Nickeas. Harvey this week named Johnson as being invaluable in terms of guidance in Buffalo. Johnson undoubtedly will catch Harvey's major league debut considering the Mets are facing Arizona rookie left-hander Wade Miley in the series opener at Chase Field.
Nickeas hit .168 with one homer and 13 RBIs in 101 at-bats. It had been a mild surprise when Nickeas, not Johnson, remained at the major league level once Thole had returned from a concussion on June 1, although Andy McCullough subsequently reported in the Star-Ledger that pitchers liked throwing to Nickeas and Mets staffers were displeased that Johnson "preferred to attack a hitter's weaknesses rather than accentuate his pitchers' strengths."
Johnson, appearing on the Buffalo pregame show Wednesday after receiving word of the promotion, looked forward to likely catching Harvey's debut and thought Harvey would benefit from being with the major league team for three days before his start against the Diamondbacks.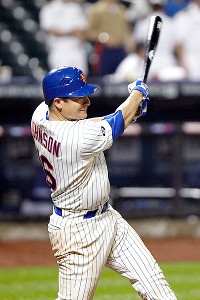 Debby Wong/US Presswire
Rob Johnson is replacing Mike Nickeas on the major league roster Thursday and is likely to catch Matt Harvey's debut.
"It's going to be a cool moment for him and I to share together," Johnson said. "I got to catch him all year here. He kept on getting better and better. So, hopefully, we can bring that up to the big leagues. ... I'm looking forward to seeing how he does. The first time that you're up there, if you have to pitch on that first day, I think it's a lot more nerve-wracking, rather than getting your feet wet. Obviously he hasn't played at all, but he's up there. And he's got the stuff to be up there. I'm looking forward to competing with him.
"I think mentally he's strong enough to be there. It's just going to be a matter of if he can compose his emotions. And that's hopefully what I'll take leadership in, and be able to get through this thing together. I think one of the biggest differences between Triple-A and the big leagues is the speed of the game. And so, [me] having experience up in the big leagues for three or four years, I think that will help him and I -- just because we have a good relationship. I think that he trusts me, and I trust him."
• Frank Francisco failed to complete an inning with Double-A Binghamton in the closer's first minor league rehab game since straining his left oblique and landing on the disabled DL June 23. Francisco surrendered three hits, including two doubles, and walked one among the six New Britain batters he faced. Francisco's rehab tour twice had been delayed -- by a cranky oblique when he was due to pitch for Class A St. Lucie, then by knee discomfort earlier this week that required a cortisone shot. Mets officials had said Francisco might need as few as two rehab appearances before being activated in Arizona, but that was before Francisco's struggles with the B-Mets on Wednesday. Alderson indicated Francisco was accompanying the B-Mets back to Binghamton, where they open a four-game series against Portland tonight, Lynn Worthy of the Binghamton Press & Sun-Bulletin tweeted.
• Mike Baxter went 1-for-3 and walked twice while logging a full game in right field in Buffalo's 5-4 loss at Louisville. Baxter is now 5-for-11 in three games with the Bisons, after also playing three games with Class A St. Lucie. Baxter's two previous rehab games in the outfield in the minors had come in left field. But Duda since has been demoted, so the exposure to right field makes sense. Baxter actually has appeared in 392 minor league games in right field in his career -- far more than any other position.
Collins has indicated Baxter is likely to return for the series opener at San Francisco on Monday. Baxter landed on the DL on June 1 with a displaced right collarbone and fractured rib cartilage, which he suffered making a no-hitter-saving-catch for Johan Santana. Read more in the Record.
• Despite surrendering second-inning homers to Michael Morse and Danny Espinosa, Jeremy Hefner limited the Nationals to three runs (two earned) on six hits and two walks while striking out seven in six innings. It was Hefner's first major league start since June 6. Collins expects Santana will return after the 11-game road trip, on either Aug. 8 or 9 against the Marlins. That likely means two starts for Hefner on the road trip. Read Wednesday's game recaps in the Times, Newsday, Record, Daily News and Star-Ledger.
• Writes columnist Ken Davidoff in the Post:
You've got to give props to these Mets. They don't merely slump. Year, after year, they spontaneously combust. They come apart at the core.
• Stephen Strasburg limited the Mets to a solo homer by Ike Davis while striking out 11 in seven innings. Read more in the Post.
• Post columnist Joel Sherman tweets that Scott Hairston and Byrdak will be available in trades if the deals improve the Mets in 2013. That is consistent with what Alderson stated Monday at Citi Field -- that he wants to try to keep this year's team competitive, so players in the final years of contracts would be available only if the move helped the major league team in the short term, not for rebuilding.
• Michael Salfino in the Journal notes the Mets have been swept in six series this season, one shy of the Cubs' MLB-leading total. But the Mets also have swept five opponents. The 11 sweeps in which the Mets have been involved is the MLB high.
• Zack Wheeler, who had allowed a career-high eight runs in his previous start, surrendered six runs (five earned) on 10 hits and two hit batters in four innings in Binghamton's 11-2 loss at New Britain. In Louisville, Collin McHugh tossed 6 2/3 scoreless innings for Buffalo. But Fernando Cabrera surrendered four runs in the eighth and Beato, in his return to the minors, served up a walk-off homer to Didi Gregorious as the Bisons lost, 5-4. Duda arrived too close to game time and did not appear for Buffalo.
Johnson said about McHugh: "He's got four pitches that he can throw for strikes. Anytime you do that, you're going to be successful at this level. As long as he continues to pound the zone and stays down in the zone, he's going to be successful. I really like Collin. He's got a good, live fastball -- a big, slow breaking ball that keep guys honest. He's got a good changeup and a nice cutter that he throws."
Read Wednesday's minor league recap here.
• While the Mets have been quiet as Tuesday's trade deadline approaches, that hardly has been the case elsewhere in the division.
The dismantling Marlins sent Hanley Ramirez to the Dodgers two days after shipping Omar Infante and Anibal Sanchez to Detroit. There are rumblings Josh Johnson could be dealt as well. "None of us envisioned where we are today," Marlins president of baseball operations Larry Beinfest told Clark Spencer in the Miami Herald. "These are tough trades. But when you underachieve at the level this team has underachieved, we talked about a restructuring and this was part of it."
Sherman in the Post wonders if Jose Reyes is on the block. He writes:
Reyes will have five years at $96 million left after what is a down season for him. Miami might not be willing to eat money or even trade Reyes so soon after his signing. But if Reyes were to become available, I think there would be suitors. Seattle is hungry for offense and a leadoff successor to Ichiro Suzuki. If the A's could ever add significant dollars, Reyes would work. The team to keep an eye on, though, is Toronto. The Blue Jays were very interested in Reyes as a free agent, but were worried about his constant hamstring problems and have an organizational mandate not to give more than five-year contracts -- which is what Reyes would have left after the season. Toronto GM Alex Anthopoulos has shown a willingness to take risks with talented players feeling that is the only way to compete with the Yankees and Red Sox within the AL East.
Meanwhile, the Phillies signed Cole Hamels to a six-year, $144 million extension. Writes ESPN.com's Jerry Crasnick about the Phillies' salary commitments:
The move allows them to maintain their core of Hamels, Cliff Lee and Roy Halladay in the rotation and the hallowed but aging infield nucleus of Ryan Howard, Chase Utley and Jimmy Rollins through at least the end of Utley's contract next season. The financial math is daunting: Those six players and closer Jonathan Papelbon will earn about $123 million combined in 2013 -- which is more than all but four teams' Opening Day payrolls this season. That doesn't leave much wiggle room for the other 18 spots on the roster.
TRIVIA: Which player did the Mets send to Cleveland in the three-team deal that landed J.J. Putz as well as Sean Green in Flushing?
Wednesday's answer: Jordany Valdespin's fifth pinch-hit homer passed Mark Carreon (1989) and Danny Heep (1983) for the franchise's single-season record. Valdespin is two pinch-hit homers shy of matching the major league record, held by Craig Wilson (Pirates, 2001) and Dave Hansen (Dodgers, 2000).