Even though right-hander Jeremy Hefner gave up back-to-back homers early, he produced a quality start against the Nationals, giving up three runs (two earned) over six innings at Citi Field on Wednesday afternoon.
The Mets fell 5-2, their 11th loss in the past 12 games, and they didn't do much on offense to help Hefner (1-4). They scored once on four hits in seven innings off Nats starter Stephen Strasburg and struck out 11 times.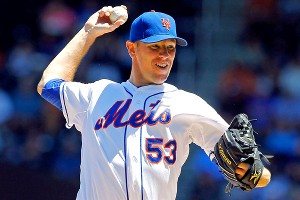 Jim McIsaac/Getty Images
Jeremy Hefner
Hefner, however, didn't point a finger.
"I can only do what I can control, and that's keep guys from scoring," said Hefner. "I did a fairly good job of that today besides the long balls, but you know I'll just try to do that every time out and get the team in an opportunity to win."
With ace Johan Santana joining Dillon Gee on the disabled list on Saturday, the Mets' rotation has become thin -- thin enough that Matt Harvey, one of the team's best prospects, has been promoted from the minors. He will make his major league debut Thursday night in Arizona, which will keep Mets fan interestes -- for now.
Hefner has to find a way to not give up easy runs and continue to produce quality starts until Santana gets off the DL. The 33-year-old left-hander is expected to return Aug. 8 or 9, Terry Collins said before the game.
It appears Hefner is taking Collins' advice and looking in the mirror to see what he can personally do to restore moral.
"I wish I couldn't have given up the home runs," he said. "After (Ike Davis) hit the home run we would have been up 1-0 instead of down 2-1. I'll work hard and try to do better next time."