PHOENIX -- Jenrry Mejia's pitching-role vacillation continues.
Mejia is moving back to the Triple-A Buffalo rotation, a team official confirmed.
Paul DePodesta had hinted at such a move last week. DePodesta told ESPNNewYork.com: "The one detriment so far of him being in the bullpen is he's had a mentality of just trying to throw harder, just trying to throw the ball by guys as opposed to pitching. That certainly wasn't the intention or the goal of having him in the bullpen."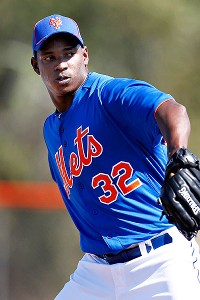 Jeff Roberson/Associated Press
Jenrry Mejia is returning to a starting role in Triple-A.
His major league role still very likely will be as a reliever.
Mejia served as a starting pitcher earlier this season while returning from Tommy John surgery before shifting to bullpen duty with the Bisons on June 15. He had a 5.48 ERA in 16 relief appearances, but has made three straight scoreless relief appearances spanning 5 1/3 innings.
"We don't necessarily want to keep going back and forth," DePodesta said last week. "Jenrry is in a tough spot because he's still really coming back from Tommy John. I think we're all thrilled right now that he's out on the mound and he's competing in such a short period time. Where is he now? Fourteen months off of surgery. They generally say players are lucky if they're back on the mound in 11 or 12 months. But the reality is their command and full game, it's usually closer to 18 months.
"So in my mind, the primary goal for Jenrry throughout this season has always been to get through the season healthy, get back on the mound and get to a point where he can repeat his mechanics and feel comfortable doing so, and feel comfortable that he's going to remain healthy.
"Now there's probably a debate about how that's best accomplished -- whether it be with him in the bullpen or him in a starting rotation. I think we've wrestled with that a little bit. But I think whatever decision we make here going forward, we're probably going to stick with through the end of the year. ... We don't want to keep having him go back and forth."