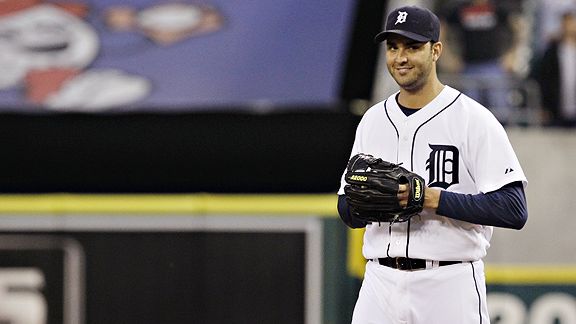 AP Photo/Paul Sancya
Armando Galarraga, who handled the blown call in his would-be perfect game with dignity, faces Mets left-hander Hisanori Takahashi on Thursday at Citi Field.
METS (39-30, second place/NL East) vs. TIGERS (38-30, second place/AL Central)
Tuesday: LHP Jon Niese (4-2, 3.64) vs. RHP Justin Verlander (8-4, 3.56), 7:10 p.m. ET
Wednesday: RHP R.A. Dickey (5-0, 2.82) vs. RHP Jeremy Bonderman (3-4, 4.06), 7:10 p.m. ET
Thursday: LHP Hisanori Takahashi (6-2, 3.13) vs. RHP Armando Galarraga (2-1, 3.32), 7:10 p.m. ET
Tigers short hops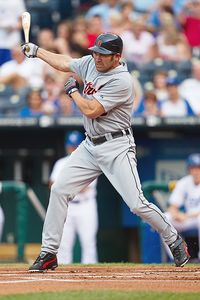 Jeff Moffett/Icon SMI
With no DH and two left-handers going for the Mets in the series, Johnny Damon may find the bulk of his time at Citi Field spent on the bench.
Right-hander Armando Galarraga has a 4.24 ERA and has logged 17 innings in three starts since his would-be perfect game went for naught on the first-base call by umpire Jim Joyce. While Galarraga does not have a decision in those outings, the Tigers have won all three games. As for the near-perfect game, Galarraga's cleats and first base have been sent to the Hall of Fame. … Right fielder Magglio Ordonez is hitting .406 with five homers and 24 RBIs in 26 games since May 13. He missed six games in early June with an oblique injury. … Rookie center fielder/leadoff hitter Austin Jackson is due back in the starting lineup Tuesday. Back spasms forced Jackson (.308, 1 HR, 14 RBIs) out of a June 13 game against the Pittsburgh Pirates. Jackson, 23, did not appear again until entering Sunday's game against the Arizona Diamondbacks in the ninth inning as a defensive replacement. He was acquired from the Yankees in a three-team deal that delivered Curtis Granderson to the Bronx, Max Scherzer and Phil Coke also to Detroit, and Edwin Jackson and Ian Kennedy to the Diamondbacks. Jackson was in the midst of a 4-for-36 slump when he was injured, which has dropped his average 33 points. … Johnny Damon (.274, 3 HR, 18 RBIs) has served as DH 37 times this season and has started 25 games in the outfield (23 times in left field, twice in center field). With the Mets starting two southpaws in the series, Damon could be the odd-man out -- certainly before the Tigers would sit fellow lefty hitter Brennan Boesch, who has started 26 games in left field and 13 games in right field this season. Boesch, a 25-year-old rookie, is hitting .337 with 10 homers and 36 RBIs in 175 at-bats. … First baseman Miguel Cabrera leads the majors in homers (19), RBIs (60) and slugging percentage (.632). Cabrera left Friday's game in the fifth inning experiencing dizziness after getting struck below the belt with a grounder, but returned Saturday. … Right-hander Justin Verlander struck out 11 and walked none in his most recent outing, against the Washington Nationals. He was the second overall pick in the 2004 draft. The Mets, who eyed Verlander out of Old Dominion, then took right-hander Philip Humber out of Rice with the third overall pick. Verlander typically struggles in March/April -- he has a career 7-11 record and 5.06 ERA in that month-plus -- and then gets going. That proved to be the case again this season. In his past 10 starts, he's 7-3 with a 2.50 ERA and .186 opponent batting average. Opponents need to get to Verlander early, too. He's only allowed two homers after the second inning this season. … Rick Porcello, who was 14-9 with as a 20-year-old rookie last season, was demoted Sunday to Triple-A Toledo. He was 4-7 with a 6.14 ERA. Porcello had allowed eight earned runs in 3 1/3 innings against the Chicago White Sox on June 9. He then was skipped a turn in the rotation before allowing four earned runs in 5 1/3 innings Saturday against Arizona, contributing to the Tigers' seven-game winning streak ending. Right-hander Jay Sborz will join the Tigers in New York. Sborz was 1-1 with a 3.04 ERA and 15 saves for Toledo. … Tigers manager Jim Leyland's son Patrick was drafted by the organization out of high school in Pittsburgh in the eighth round. A catcher, he is due to play in the Gulf Coast League. … Third baseman Brandon Inge is hitting .377 (26-for-69) since May 30. That's lifted his average from .215 to .261 during a 19-game span. After offseason surgery on both knees, Inge did not expect to be 100 percent until June, which contributed to the slow start. … Right-hander Jeremy Bonderman retired the first 11 Washington Nationals in his last start before Ryan Zimmerman singled. … Detroit faced a pair of former teammates during the series against the Diamondbacks: Dontrelle Willis on Friday and Edwin Jackson on Saturday. Willis was designated for assignment on May 30 and subsequently traded to Arizona for right-hander Billy Buckner, who was sent to Triple-A. Detroit had to pick up what remained of the $12 million owed to Willis this season, less a prorated amount of the major league minimum salary. Against Detroit, Willis was tagged for five runs in five innings. The next day, Jackson was credited with a victory after allowing four runs (three earned) in 7 2/3 innings. (Aaron Heilman picked up his first save with the Diamondbacks that day.) … Closer Jose Valverde has a 0.59 ERA in 30 1/3 innings and has produced 16 saves in 17 chances. The lone blown save April 7 at Kansas City in the 11th inning, in his first save opportunity of the season. Valdverde's showmanship, including pointing to the sky, has rubbed opponents the wrong way. That included Arizona catcher Miguel Montero. … Utility player Ryan Raburn was offered to the Mets during spring training in 2009 for right-hander reliever Brian Stokes. … Longtime broadcaster Ernie Harwell was honored on Monday with Detroit Mayor Dave Bing proclaiming it "Ernie Harwell Day." Harwell died last month at age 92.
Matchups
Niese vs. Tigers (career: never faced)
Dickey vs. Tigers (career: 2-2, 4.69 ERA)
Ryan Raburn 1.000, 1 RBI, 2 AB
Ramon Santiago .429, 7 AB
Miguel Cabrera .400, 1 HR, 1 RBI, 10 AB
Carlos Guillen .300, 1 HR, 1 RBI, 10 AB
Brandon Inge .286, 1 HR, 2 RBIs, 14 AB
Gerald Laird .286, 7 AB
Magglio Ordonez .267, 1 HR, 2 RBIs, 15 AB
Johnny Damon .200, 10 AB
Takahashi vs. Tigers (career: never faced)
Verlander vs. Mets (career: never faced)
Jeff Francoeur .667, 3 AB
Henry Blanco .333, 3 AB
Rod Barajas .167, 2 RBIs, 6 AB
Alex Cora .000, 6 AB
Jason Bay .000, 3 AB
Bonderman vs. Mets (career: 1-1, 7.36 ERA)
David Wright .333, 3 AB
Alex Cora .214, 1 RBI, 14 AB
Jose Reyes .200, 2 RBIs, 5 AB
Rod Barajas .182, 2 RBIs, 11 AB
Jason Bay .000, 3 AB
Galarraga vs. Mets (career: never faced)
Rod Barajas .500, 1 HR, 1 RBI, 2 AB
Jason Bay .000, 2 AB
Last series results:
Tigers won 2-1 at Comerica Park, June 8-10, 2007 (AP game recaps)
Mets 3, Tigers 0: David Wright and Carlos Delgado made a winner of Jorge Sosa (6-1) for the sixth time in seven starts, each hitting their 10th homers of the year. Wright went deep to right field off Tigers starter Chad Durbin in the fourth inning to make it 1-0. Delgado put New York ahead 2-0 with his homer in the seventh. Sosa, who was a combined 3-11 last season with the Atlanta Braves and St. Louis Cardinals, scattered four hits over eight innings in his longest outing of the year. He struck out five and walked two. It was the 15th consecutive game Mets starters have allowed three runs or less. The Mets added an insurance run in the ninth, after Carlos Gomez reached on a bunt and Carlos Beltran lined a base hit to center. Tim Byrdak replaced Durbin and gave up a sacrifice fly to Delgado to make it 3-0. Billy Wagner pitched a perfect ninth for his 14th save in 15 chances. Durbin (5-2) gave up three runs on six hits in eight-plus innings. He struck out four and walked one in his longest outing since April 25. Tigers manager Jim Leyland said Durbin was terrific, but Sosa was just a little bit better. Detroit threatened in the sixth when Magglio Ordonez, who had grounded out and popped out in previous at-bats, singled to right field. Gomez misplayed the ball, allowing Ordonez to reach second, but Carlos Guillen was called out on strikes to end the inning. Detroit had other chances, too. Guillen walked and reached second on a stolen base in the fourth, but Sean Casey grounded out to end the inning. In the bottom of the first, Curtis Granderson singled and moved to second on a groundout by Placido Polanco. Granderson was left stranded when Mets shortstop Jose Reyes stretched out to snag a hard-hit grounder and threw Ordonez out at first. Polanco hit a two-out double in the eighth, but Sosa, after a chat at the mound with the infield, got Gary Sheffield to ground out.
Tigers 8, Mets 7: Jeremy Bonderman is still able to gut out a win even when he's not at the top of his game. Bonderman won his sixth straight start and Carlos Guillen hit a three-run homer. Bonderman (6-0) gave up eight hits and six runs (five earned) while striking out four in six-plus innings. After five straight no-decisions, Bonderman has won each of his last six starts. Tigers manager Jim Leyland said Bonderman kept his poise in the seventh inning even as the Mets kept finding holes. The Mets sent nine batters to the plate and came away with three runs in the seventh to pull within 8-6 and had threatened again to take the lead. But with the bases loaded, reliever Wilfredo Ledezma got Carlos Delgado to hit into an inning-ending grounder. Todd Jones got three outs for his 16th save in 20 chances. Oliver Perez (6-5) pitched five innings, allowing a season-high five earned runs on seven hits with five walks. The Mets took a lead in the first when Carlos Beltran was hit by Ivan Rodriguez's throw while stealing second. Before Tigers center fielder Omar Infante could get to the ball, Beltran headed home on the error and beat Infante's hurried throw to the plate. Guillen's three-run homer off Perez in the bottom of the first gave the Tigers a 3-1 lead. The Mets tied it with two runs in the fifth. Paul Lo Duca legged out an infield single and Ricky Ledee hit a double to deep right. Jose Reyes lined a single up the middle to score LoDuca and Ledee, but Bonderman picked off the speedy shortstop at first for the final out. The Tigers went ahead 5-3 on a two-run single to left by Rodriguez in the fifth. Detroit had a brief scare in the sixth when Delgado hit a shot to deep left, but the ball was caught easily by Craig Monroe on the warning track. New York then brought in reliever Guillermo Mota, who was tagged for three runs in the sixth. Curtis Granderson led off with a double, extending his career-best hitting streak to 10 games. He advanced to third on Placido Polanco's infield single when David Wright's throw sailed over Delgado's head at first. Gary Sheffield drove in Granderson on a single, and Magglio Ordonez hit a two-run double for an 8-3 lead. Wright's 11th home run, and third in three games, in the eighth cut Detroit's lead to 8-7.
Tigers 15, Mets 7: Tom Glavine had one of the worst outings of his stellar career against baseball's highest-scoring team. Gary Sheffield contributed to Glavine's rough day with a homer and an RBI triple, helping the Detroit Tigers win the series. Glavine (5-4) gave up nine earned runs for just the second time, matching the career-high total he allowed eight years ago. Brandon Inge had a career-best five RBIs, helping the Tigers score six runs in the fifth inning and four in the eighth, to surpass their previous season high of 14 runs. Detroit leads the majors with 374 runs, an average of just over six per game. Manager Jim Leyland, however, is unhappy that his shaky bullpen is leading to softball-like scores for the defending AL champions. In a matchup of an all-time great left-hander and a promising lefty going for win No. 2, the pitcher with 295 career wins had a day he'd like to forget. Clearly, Glavine probably has other things on his mind. Glavine gave up a season-high 11 hits and lasted just 4 1/3 innings -- his shortest outing of the season. He is 0-3 over his last four starts after beginning the year 5-1. The only other time Glavine gave up nine earned runs was May 24, 1999, for Atlanta against the Milwaukee Brewers, and he allowed nine runs total in two other games. Andrew Miller (2-0) allowed a three-run homer to David Wright in the first inning before settling down. He finished with four runs allowed, five hits and three walks over 5 1/3 innings. A year after being drafted sixth overall, Miller made his second start in the majors. Leyland was not surprised to see the 22-year-old Miller pitch out of some jams. Miller left the game with one on, one out and a seven-run lead in the sixth and the cushion quickly was cut after Jason Grilli replaced him. Grilli gave up three straight hits, including rookie Carlos Gomez's first homer, and was replaced after hitting the fourth Met he faced without getting an out. Tim Byrdak got out of the two-on, one-out jam with a strikeout and flyout.