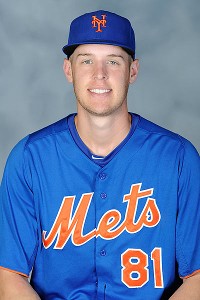 Courtesy of New York Mets
Zack Wheeler
PHOENIX -- The Mets are prepared to imminently move top prospect Zack Wheeler to Triple-A Buffalo.
The primary remaining organization debate is whether it would be best for Wheeler's promotion to be delayed until the Bisons return home, a team insider said. Wheeler making his debut in Buffalo would help the tenuous relationship between the Mets and their Triple-A affiliate.
Wheeler last pitched Wednesday with Double-A Binghamton at New Britain.
Debuting Monday in Triple-A would occur in Indianapolis, whereas waiting until next weekend for a promotion would make Wheeler's International League debut in Buffalo against Syracuse.
Wheeler, the right-hander acquired from the San Francisco Giants for Carlos Beltran, is 9-6 with a 3.29 ERA in 18 starts with the B-Mets. He has allowed 88 hits and 39 walks and hit 11 batters while striking out 106 in 109 1/3 innings.
Wheeler's dominance actually has stalled the past two outings. He has allowed a combined 14 runs (13 earned) in 7 2/3 innings over his past two Eastern League starts.
The affiliation agreement between the Mets and Buffalo expires after this season, and there are rumblings the Bisons may choose to align with the Blue Jays beginning in 2013.