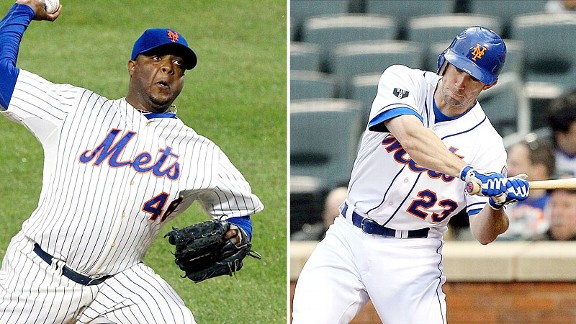 Jim McIsaac/Getty Images
Frank Francisco and Mike Baxter should rejoin the Mets after the weekend.
PHOENIX -- The Mets believe Frank Francisco and Mike Baxter both will rejoin the Mets for the series in San Francisco that opens Monday, a team official said.
Francisco made his second rehab appearance with Binghamton on Friday night, allowing one hit during a 21-pitch, scoreless inning. Francisco notched his first Double-A save since 2007.
There was a chance Francisco could rejoin the Mets after this appearance. But a team official believed Francisco making one more minor league appearance was the likelihood before being activated for the Giants series. Francisco has been on the DL since June 23 with a strained left oblique.
Baxter's rehab assignment continued with Triple-A Buffalo tonight. He dislocated his right collarbone and fractured rib cartilage on the no-hitter-saving catch for Johan Santana on June 1.
Baxter's return could mean the demotion of Kirk Nieuwenhuis.