Right-hander Jenrry Mejia is due to start Wednesday at balmy Double-A Binghamton.
And, for the record, the forecast is for a high of 85 degrees/low of 70 -- as opposed to Buffalo's 82/72, or the 92/73 on the outskirts of Atlanta, where the Triple-A Bisons play Wednesday.
But we'll leave seasonal comparisons of Buffalo and Binghamton weather for another day and instead look at how scouts assigned to the Mets viewed Mejia's demotion.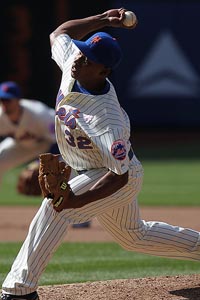 Nick Laham/Getty Images
Jenrry Mejia moves to Double-A Binghamton as a starting pitcher.
Their take:
1. Mejia belongs in the minors.
2. It may actually increase Mejia's trade value -- in a less-than-obvious way.
Mejia was demoted after Sunday's series finale against the Yankees and will begin stretching out as a starting pitcher. He was 0-2 with a 3.25 ERA, 29 hits allowed, 15 walks, 17 strikeouts and three hit batters in 27 2/3 innings with the Mets in relief.
Jerry Manuel had lobbied since spring training for Mejia to be included in the major league bullpen, but the 20-year-old rookie's recent lack of use resulted in the decision to send him to the minors. That will allow Mejia to concentrate more on developing his curveball and changeup.
According to Fangraphs.com, 78 percent of Mejia's major league pitches were fastballs, 13 percent were changeups and nine percent were curveballs. Mejia ranked fourth among National League relievers in the percentage of fastballs used.
In justifying placing Mejia in the bullpen for nearly the first three months of the season, Manuel asserted that there was a value in being in a major league environment. That may be true to an extent. But one American League scout assigned to the Mets countered by citing a pitcher who made his major league debut in 2003 when Manuel managed the Chicago White Sox -- left-hander Neal Cotts.
All four of Cotts' major league appearances in '03 under Manuel were as a starter. But since then under Ozzie Guillen and then subsequently with the Chicago Cubs, all but one of Cotts' major league appearances have been as a reliever. And, the scout asserted, after a short period of time, there's no going back.
"I mean, he's not as good as Mejia -- but they threw him in the pen and he flourished, but he also lost all of his feel for his third pitch and for his command and control," the scout said.
The scout also noted that the way scouting is structured, other organizations might mistakenly devalue Mejia in their reports if he's at the major league level as a reliever.
That's because organizations often will defer to the reports of their major league scouts, who may only also be assigned to the big league club and Triple-A, and who watched Mejia as a reliever. They may hold in less regard the report of the lower-level scout who saw Mejia as a starting pitcher in Class A last year.
"You have to understand, there are a lot of teams that there are three separate levels they do coverage," the scout explained. "Some guys only do Triple-A and the major leagues. Some guys only do Double-A and high-A ball, or do Double-A up to the big leagues. And some of the pro scouts never see A-ball.
"So if they just saw him in A-ball, they have him down as a starter. And guys that only have big-league coverage saw him in the bullpen, and they're only going to see him as a bullpen guy. They're going to go with the major league scout that this guy is a bullpen guy rather than a starter."
And, the scout added: "Obviously, starters have longer-term value because of the fact you can throw a bunch of relievers in a bag and pull out the right one every once in a while."
Another American League scout noted that teams are well aware of Mejia's high-end potential, regardless of where he was assigned.
"No question. We'd love to have him," he said. "I think everybody knows he's one of the top prospects. He's got a lot of value. He would have more value as a starter than a reliever. They did the right thing by sending him out because he needs to pitch."
Could Mejia have developed just the same even with regular use in the major league bullpen?
"No," one scout said. "This is better."
Said another scout: "The problem I have with it is there was no need to do it. At some point in time, it was like throwing Jerry a bone: 'OK, you can have your one guy' -- a 'we're-not-very-happy-about-this' type of thing. I mean, there's the experience of being there, but if they would have done it for a full year, I think they would have lost what kind of pitcher he was. Instead of being a three-pitch-mix guy, he'd end up just blowing by guys, and lose the changeup -- or whatever the case may be. I think they may have caught it in time. Hopefully he gets it to where he can command the fastball again."
CONTROLLED EXTRA YEAR
A Mets official insisted it was "not even a miniscule factor" in the decision to demote Mejia, but the rookie's trip to the minor leagues means he now likely won't be a free agent until after the 2016 season, rather than after the 2015 season.
That's because Mejia now likely won't be credited for a full year of major league service time for this season. And you need six full years of major league service ultimately to be a free agent.
For this to materialize, however, Mejia must now stay in the minors for at least 20 straight days -- which clearly is the intention.
If a player optioned to the minors is re-promoted within 20 days, the option is not considered used and the player gets re-credited with major league service time for the days he spent in the minors.
Adam Rubin's 'In-depth' look at the Mets will appear selected Tuesdays during the season