PHOENIX -- Ike Davis' three-homer game Saturday was particularly meaningful to the native Arizonan, despite it coming in a 6-3 loss to the Diamondbacks.
Davis and the Diamondbacks' Chris Young had distributed bracelets pregame to players on both teams in memory of Davis' childhood friend Mike Lio, who died from Ewing's sarcoma in 2009, shortly before Davis made his major league debut.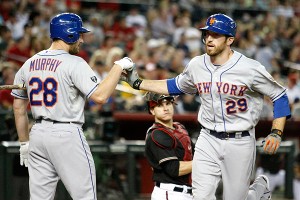 Rick Scuteri/Associated Press
Ike Davis produced three solo homers Saturday.
Annually, when the Mets come to town, the Diamondbacks donate a block of tickets, which Lio's family and friends sell. Much of the proceeds go to research for Ewing's sarcoma, a cancerous bone tumor that affects children.
This year's event came Saturday, coinciding with Davis producing the ninth three-homer game in franchise history.
Davis was on the disabled list last year when the Mets visited Phoenix, so the event proceeded without him.
"Two years ago, I didn't get a hit," Davis recalled. "It's a good day, because all of our buddies get together and meet up before the game and hang out. They have a blast. I don't get to hang out with them, but they get to come watch me play. And it's fun to remember the good times. And I'm glad I hit a couple of home runs on the day we're celebrating Mike."
As for his three-homer feat, Davis added: "I haven't really got too many base hits lately, but I have been driving the ball. I happened to square it up three times instead of just once today.
"It is a positive thing," he continued, referring to reaching 20 homers for the season. "I want to get base hits, too, and not just hit home runs. It's nice that if I'm hitting home runs, at least I'm helping the team in that way."
Davis went 4-for-4 to raise his batting average to .216 for the season.
"When I was hitting .120 with five home runs 2½ months into the season, I was like, 'This could be a pretty bad year,'" he said. "It's still not where I want to be, but it's definitely getting better."