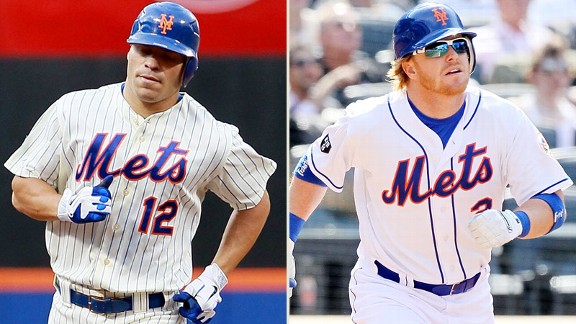 Associated Press
There is a definite trade market for Scott Hairston. Terry Collins believes Justin Turner would help a contender, too.
PHOENIX -- Mets officials want to keep their 2012 edition as competitive as possible. So, barring an offer too good to refuse, it appears likely Scott Hairston will remain a Met beyond Tuesday's trade deadline.
There's no doubt Hairston is an attractive piece to a contender, though. He again came through Sunday, going 2-for-5 with a double and two RBIs as the Mets beat the Diamondbacks, 5-1.
With the Mets facing another southpaw, Madison Bumgarner, on Monday in San Francisco, Terry Collins plans to again start Hairston in right field. Hairston is hitting .315 (39-for-124) with nine homers and 26 RBIs against left-handed pitching this season after notching two hits in four ABs against D-Backs starter Joe Saunders on Sunday.
#12 LF
New York Mets
2012 STATS
GM

85

HR12

RBI41

R32

OBP.301

AVG

.261
Hairston also is particularly attractive to other teams because he's making only $1.1 million before being eligible for free agency again this offseason.
"I try to, but it's kind of hard to ignore them," Hairston said about tuning out the trade rumblings. "I have friends that send me texts probably every day. Right now, once I get to the ballpark, I just focus in on doing my job that given day. I know a lot can happen in the next few days. But I'm a Met now. I'm happy to be a Met. And I'm enjoying my time here.
"It's always good to be wanted," he added. "That's definitely a plus. But, like I said, they're just rumors. There's a lot of players that are involved in those rumors. And I'm one of them. I've dealt with this in the past. I've got a job to do. I really try not to focus on what could happen. I just want to continue to help this team win."
Said Collins: "Absolutely it would be tough to part with a guy like Scott Hairston. He's a big piece of this team, too. But I can understand why teams would bring his name up. ... He's the perfect piece. If you like your lineup and you're looking for that bat, he's exactly what a playoff team wants.
"We've got a couple of them. I'm surprised someone hasn't knocked the door down for Justin Turner, to be honest. The guy can play anywhere in the infield. He's a great pinch hitter. Maybe teams have called. I don't know. I'll tell you, I'm really frustrated, because it's tough for me to get him in the lineup, because he can hit. He can hit. If he was playing, he'd be hitting .275 and he'd have five or six homers. But Ike [Davis] is starting to swing it. Dan [Murphy] is hitting it hard. And David [Wright] is David. And [Turner] understands it. But it's pretty frustrating, because he played great for us last year."
Collins said frequent use has kept Hairston sharp. The Mets have faced 38 left-handed starters through 102 games. After seeing two more during the upcoming four-game series in San Francisco, they will be on pace to face 61 southpaw starters this season. That would fall three shy of matching the most in a season in franchise history -- 64 in 1991.
"One of the things, I've thought, that's really helped Scotty this year is he's played a lot," Collins said. "He hasn't just strictly been a pinch hitter. And the other thing that's helped is we've seen a lot of lefties. He's gotten a lot of at-bats. When you look up and this guy has got 260 at-bats or so, that's a lot of at-bats at this time of year for anybody."
Hairston agreed.
"Definitely so," he said. "My timing is pretty good right now. It always helps to get more playing time. I think last year I'd go three or four days without getting an at-bat. That's sometimes hard to get into a groove."
That doesn't mean Hairston will play more regularly. Collins noted Hairston's production against right-handed pitching has not been stellar. After grounding into a double play in the ninth Sunday against right-handed reliever Brad Bergesen, Hairston is now hitting .196 (20-for-102) with three homers against righties in 2012.
"Last year he hit some homers off righties," Collins said. "He hasn't hit them real good this year. So I kind of like what he's doing right now. I like really what he brings to the team off the bench. And those days he doesn't play, and they bring in those lefties to face those particular left-handed hitters, we've got a pretty big weapon off that bench."