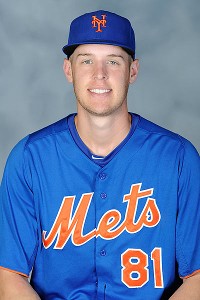 Courtesy of New York Mets
Zack Wheeler
SAN FRANCISCO -- After weighing whether to have Zack Wheeler make his Triple-A debut on the road, or give him one more start with Double-A Binghamton to allow Wheeler to make his Buffalo debut at home, the Mets have opted for the latter, a baseball source told ESPNNewYork.com.
Wheeler is due to pitch one last time for the B-Mets on Tuesday against Harrisburg, the Nats' Double-A affiliate.
The top prospect then is expected to move to Buffalo, and make his Bisons debut Sunday against Washington's Triple-A Syracuse affiliate.
Wheeler, 22, is 9-6 with a 3.29 ERA in 18 Eastern League starts. He has allowed 88 hits and 39 walks and hit 11 batters while striking out 106 in 109 1/3 innings.