SAN FRANCISCO -- Sandy Alderson, speaking on a conference call with reporters after inaction at the trading deadline, offered this summary:
The Mets continued to be "buyers" until the deadline, but the focus changed with the swoon to begin the second half, making it a "modest" buying agenda. He said any move would have needed to benefit 2012/2013. He even considered some rental players, he suggested, even though the Mets' 2012 playoff hopes seem a long shot.
"I'm not sure we ever totally changed course," Alderson said. "Being buyers has different connotations, most strongly having to do with the current season. ... If you go back and review the chronology of the last month, you realize that things changed pretty rapidly from just before the All-Star break and certainly right after the All-Star break until just the last four or five days. So in terms of being aggressively buying for 2012, certainly things changed during that period of time, and very swiftly. At the same time, we continued to look for opportunities to improve the team both this year and in 2013. And in some cases even looking at rental players that would have only helped us in 2012. We didn't give up on the buying activity at all. But certainly we ended up with a more modest agenda."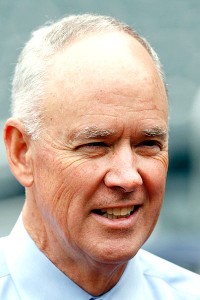 William Perlman/US Presswire
Sandy Alderson offered no indication the Mets were going to be aggressive at the trade deadline.
Asked if he could have changed the direction of the season by acquiring a front-line reliever a few weeks back, the GM insisted those type of players were not available in mid-July.
"I can't tell you what the impact on the team would have been. I can tell you what the availability was at that time," Alderson said. "There really wasn't availability. If you're talking about an impact reliever at the end of the game, and you go back to right after the All-Star break, the market really had not fully formed. ... Would a reliever of some renown, some ability, have made a difference? It's possible. But about the same time that it would have been nice to get a reliever, our starting pitching went south and we weren't scoring quite as many runs as we had. So there was a period of time until very recently that we had a number of problems that could have been addressed. The bullpen was just one of those."
Alderson expressed surprise the direction of the call turned to why the Mets did not sell instead of why they were not buyers. Asked by ESPNNewYork.com about there arguably being little value in increasing the 2012 win total of a non-playoff team, Alderson said:
"Well, maybe you're not a Mets fan, Adam. Or you're not a Mets employee. Or you're not a Mets observer. You're certainly a Mets reporter. It's not clear to me you have the same mindset as all the other constituencies that relate to the Mets. It's a good question, but if we're just going to get marginal talent, and I'm talking about let's say maybe not even top-30 prospect status in an organization, then we have a choice to make."
He said he had dialogue with at least three AL teams about Scott Hairston, but it was more valuable to keep the 2012 team competitive than have only an incremental help to the farm system in acquiring a Class A prospect. Alderson added that while he has not had any contract extension talks with Hairston, that likely will be at least broached in August.
"Without getting significant help for 2013, we were not going to move players simply to move them," Alderson said. "We were not looking for some small, incremental improvement to the overall player-development situation. If we were going to get a quality player, then we would strongly consider doing something as a 'seller.' But absent a strong effort by another club, we weren't simply going to make a move just to make a move. We didn't need to dump salary. And we were not interested in the types of prospects that were offered to us and would have had a very marginal impact on our system.
"Right now, he's a very important part of our team," Alderson continued, referring to Hairston. "And we do feel it's important to field as strong a team as we reasonably can for the rest of the season. We haven't given up on the season. We didn't move players off the team for a reason. We think we still have lots of good baseball in front of us. And Scott can be part of that. If you look historically at what bench players, platoon players can bring to a team that moves that kind of player at the deadline, it's not always a great return. ...
"I think there's a lot of value in, for example, making a run, even if it's unrealistic. I think there's a lot of value, for example, in finishing well over .500. I think there's a lot of value in finishing over .500. I think those things create a perception. What happened or didn't happen on the deadline may be largely forgotten if a team is able to create a positive impression the second half of the season.
"I thought we would talk on this call about the fact that we didn't add anything. And now we're talking about why we didn't subtract, which is interesting to me. As I said, we're about changing impressions, changing perceptions. And you do that with wins and losses, primarily. I understand our fans are disappointed with what's happened the last three weeks or so, but it's not the end of the season. And there are a lot of impressions to be made over the remaining two months. I happen to think those impressions can be more valuable than a low-A prospect, below the top 30, from some organization in the American League."