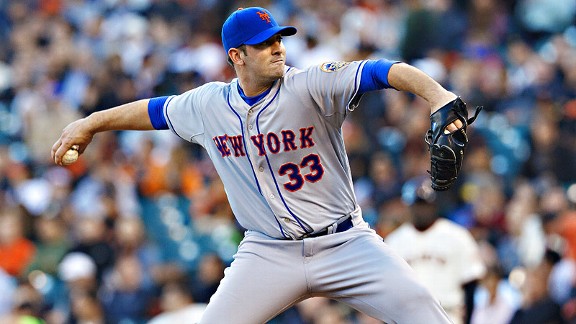 Jason O. Watson/Getty Images
Matt Harvey was charged with three runs (two earned) in six innings in his second major league start, but his fielders let him down.SAN FRANCISCO -- Not only did Matt Harvey refrain from throwing his fielders under the bus after Tuesday's 4-1 loss to the Giants, he placed the blame for the loss solely on himself.
And he was being completely unfair.
Harvey deserved to be out of a two-run second inning without any damage. Leadoff batter Buster Posey reached when Jordany Valdespin misread a ball in center field. And Ruben Tejada threw away a would-be inning-ending double play that would have ended the frame without any damage.
"I don't like to lose, so obviously I'm not happy about it," Harvey said. "In my eyes, if we scored one run, I should have done my part and gotten zeroes, but I didn't do that tonight. I didn't do my job."
Said Terry Collins: "The double-play ball we should have turned over. We had one of those innings. But he pitched very well. Very, very well."
As for the center-field misread, Collins added: "[Valdespin is] a young guy, who is not used to playing center field. And the line drive is the toughest ball to judge. He thought he had a bead on it. And the ball all of a sudden, I'm sure, had some topspin and dove on him."
Reminded the fielding miscues actually were the culprit, Harvey said: "Well, you've got to move forward. They've been up here all year making plays. One play is not going to change anything."
Harvey, who barely used his changeup in his major league debut, threw 19 of them Tuesday and said it was his second-best pitch. Collins noted the rookie's control overall was not as sharp as the game in Arizona, though.
"I had a good feel for it," Harvey said about the changeup. "I was able to throw it down in the zone. A couple of times I left it up, but for the most part it was down. I felt really confident with it."
As for the slider, Harvey said: "I was rushing out a little bit on it. It was flattening out a little bit."
Harvey said he was so focused on the mound, he did not really notice his surroundings. But he really enjoyed the AT&T Park vibe once he departed the game after six innings, trailing 3-1.
"This place is fun to play in, an electric ballpark," he said. "It's nice being on the mound and being locked in and not hearing anything. But I think Rob Johnson came up to me after and he goes, 'You see what I mean, how electric this place is?' I didn't really notice it while I was on the mound. But when I got out, it's a fun place to play."
Said Collins: "I'll tell you, I've been pretty impressed. I thought for sure you'd see a good arm coming up here, but he knows what he's doing out there."