SAN FRANCISCO -- The Mets arrived in Arizona having lost 12 of 13, including a winless homestand against the Dodgers and Nationals.
Now they're 5-3 on their West Coast trip, having split the series in Phoenix, then taken three of four from the Giants, capped by a 9-1 rout Thursday.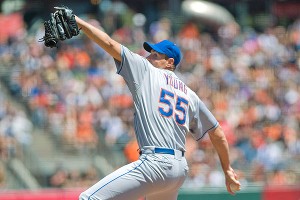 Ed Szczepanski/US Presswire
Chris Young limited the Giants to one run in seven innings.
"We had a meeting right before Arizona," Terry Collins said. "I said you're going to see a different club here in the next few days. And I think they've shown that. I think they've come out with a little more energy. Obviously it starts with the real good pitching that we've had. We've gotten some big hits -- again, today, a lot of two-out singles, a lot of two-out hits. One of the reasons we are where we are is because of the two-out hits. Today we did it again."
Collins said the four-run first inning clearly allowed Chris Young to exhale. Young went on to limit San Francisco to one run in seven innings.
"I think it made a big difference," Collins said. "I don't think he had to be all concerned about making a mistake. It helps you a lot with your confidence -- 'Hey, look, if I hang a slider, get a ball down in the zone, it's not going to kill us.'"
Said Young: "The guys set the tone with the runs early and allowed me a lot of room for error. It let me relax and just try to go out and be aggressive in the strike zone."
Meanwhile, Ronny Cedeño had a five-RBI day.
"I credit [hitting coach] Dave Hudgens. And I'll credit Ronny Cedeño," Collins said. "We brought him in the first day and said, 'Look, here's what we believe in here. We believe in on-base [percentage]. We believe in drawing some walks. We believe in working the count.'
"He's been the history of a guy who swings early in the count, and he bought into it. I think he's having as good an offensive year as he ever has. And he's done a good job, because he hasn't played a lot. He's had a couple of injuries that have kept him out of the lineup. When Ruben [Tejada] came back, the playing time has been at a premium for him. And when he gets it, he's done the most with it."