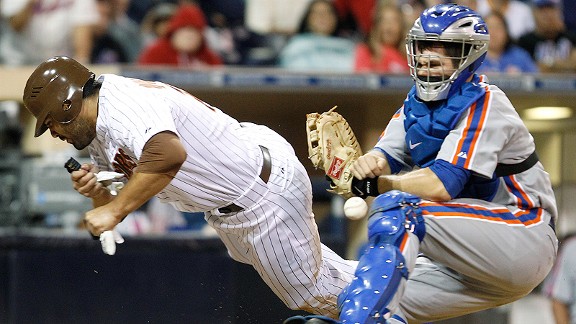 Lenny Ignelzi/Associated Press
Carlos Quentin dislodged the baseball from Josh Thole in the seventh inning, in the pivotal play of Friday's game.
SAN DIEGO -- Josh Thole offered no excuse for the dropped throw in a seventh-inning plate collision with Carlos Quentin that dislodged the ball and allowed the tiebreaking run to score in San Diego's 3-1 win against the Mets on Friday night at Petco Park. Thole said he failed to get his bare, right hand on the ball as well to protect it from Quentin's jarring blow.
"I just didn't get my free hand on the ball," Thole said. "When I was reaching for it, as I was getting to the ball, I got hit. At least you want to have the ball in your bare hand inside the glove. I always prepare to get hit -- and if they slide, they slide. It makes it easier. That's how you draw the play up. Outfielder hits the cut man. The cut man throws a one-hopper to me. You couldn't have drawn it up any better. I've just got to get my bare hand on the ball."
Said bench coach Bob Geren, a former major league catcher for five seasons: "I just watched it. He was in the right position. The ball just popped out. It looked like he did everything right. He caught the ball. He tried to secure it with two hands, and right about when he hit him. More times than not he won't drop the ball. He had time. The way he hit him, he hit him at the perfect angle. All the force went on the glove. And I watched it like 10 times. It's an unfortunate break. You're taught to try to knock the ball loose as a runner. They both did exactly what they're supposed to do. The ball just popped out."
Said R.A. Dickey: "It stings a little bit because we should have won that game, not because of any groove that I'm in. We have to win games like this. We have to compete to have a shot at working our way back into this thing. I didn't execute a pitch or two, but we had some funny plays, too. Regardless, it's a game that I think everybody in here thought we should have won."