When Matt Harvey made his major-league debut against the Diamondbacks, we wrote a piece imagining the scouting report Harvey would see and hear heading into that game.
With this being his first home start, we thought we'd do something similar for the key Braves hitters he'll face this evening.
So here is a closer look at the strengths and weaknesses of some of Harvey's top opposition.
Jason Heyward
.296 BA, 13 HR in 233 AB vs RHP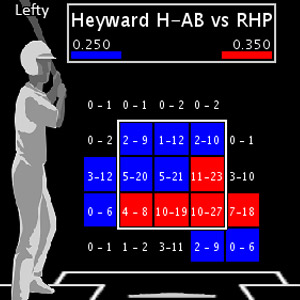 Key stat: 24-for-54 in lower-third of strike zone
If you throw a pitch to Heyward in the strike zone from the knees to the belt, you're living dangerously. How much so?
Heyward's .453 batting average on pitches to that area from right-handers this season is topped by only three players: Mike Trout, Robinson Cano, and A.J. Pierzynski.
He ranks among the most aggressive swingers in baseball against those pitches. If you throw him one, he won't pass it up.
Heyward is vulnerable in two areas: on pitches up in the strike zone, and pitches that are moderately elevated that jam him inside. Given that one of Harvey's strengths is a rising fastball, look for him to attack with that.
Chipper Jones
.320 BA, 7 HR, 147 AB vs RHP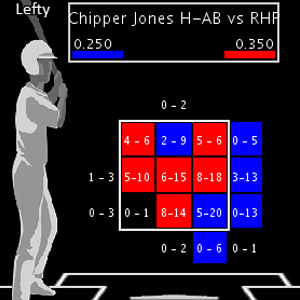 Key stat: 49 HR vs Mets
There aren't a lot of spots in which you can attack Jones, who has done very well from both sides of the plate this season.
The best bet would seem to be to make him try to reach out for a knee-high fastball on, or just off the outside corner, or get him to chase a slider in that same area. Dillon Gee was able to do this with success in early April, getting Jones to ground out three times against pitches away.
Jones is among the least likely hitters both on the Braves and in the majors to chase a two-strike pitch out of the zone. He has only done so 29 percent of the time. You will have to earn it to get him out.
The average hitter chases a two-strike pitch from a righty 41 percent of the time.
Jones burned a Mets rookie, Josh Edgin when the teams last met. If he gets Harvey for a homer, it will be his 50th against the Mets, passing Mike Schmidt for second-most all-time.
Freddie Freeman
.306 BA, 9 HR in 219 AB vs RHP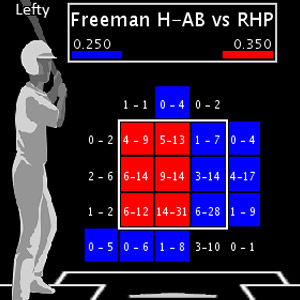 Key stat: .409 BA on "inner-half" or closer pitches
Freeman is one of the most aggressive first-pitch swingers in the major leagues. He swings at the first offering 45 percent of the time, a rate only bested by Josh Hamilton and Ian Desmond.
When Freeman gets a first-pitch he likes, he usually does damage. He has 29 hits in 56 plate appearances in which he hit the first pitch (16-of-33 against righties). That's among the highest success rates in baseball.
Freeman's on-base percentage when he starts 1-0 against a righty is .343. When he starts 0-1, it's .325. So there's no need to throw a first pitch right down the middle. It's not worth the risk.
Freeman's sweet spot against right-handers is lower-half/inner-half. If those pitches are left in the strike zone, they'll likely be driven to right field. He's vulnerable to pitches on, or just off the outside corner. That's how Mets righties have gotten him out six of the nine times they've retired him this season.
Brian McCann
.238 BA, 12 HR, 202 AB vs RHP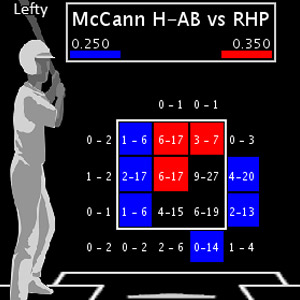 Key stat: .290 BA in strike zone (.325 in 2011)
The infield defense will shift to the right side against McCann, though it will likely keep someone just off of second base on the shortstop side. Off his 63 ground balls this season, 49 have been to the right of the second-base bag.
McCann has not fared well when righties have jammed him inside this season. Though he doesn't swing and miss often, his rate of good contact is way lower against inside pitches (16 percent hard-hit rate) than anything else (24 percent hard-hit rate).
McCann has also had major issues against breaking balls from righties this season. A good one on the outer half has rendered him helpless. Consider this breakdown:
Vs RHP breaking balls to the outer half
2011- 24 outs, 15 hits
2012- 23 outs, 3 hits