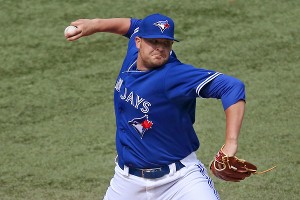 Tom Szczerbowski/Getty Images
Former Blue Jay and Phillie Drew Carpenter has signed a minor league deal with the Mets.
The Mets have signed right-handed reliever Drew Carpenter to a minor league deal and assigned him to Double-A Binghamton.
Carpenter, 27, made six relief appearances for Toronto this season and had a 5.00 ERA.
He primarily had pitched with the Phillies while making 23 major league appearances (one start) and compiling a 7.56 ERA from 2008 through 2012.
Carpenter had elected for free agency this week after being designated for assignment by the Blue Jays and clearing waivers.