Terry Collins complimented Matt Harvey's resolve in bouncing back from some early erratic control. But Harvey, who retired the final nine batters he faced in a six-inning performance Friday, reiterated a theme he uttered on the road trip: A loss is a loss.
Harvey surrendered a two-run homer to Jason Heyward in the first inning, but no other damage in what became a 4-0 loss to Atlanta in his home debut. He limited the Braves to two hits while walking five and striking out three in six innings. Despite a solid 3.63 ERA, he dropped to 1-3 in his major league career.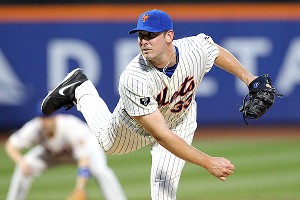 Brad Penner/US Presswire
Matt Harvey rallied to toss five scoreless innings after surrendering a two-run homer to Jason Heyward in the first.
"It was definitely a battle," Harvey said. "Coming out and walking five guys in the first three innings, that's the last thing you want to do. You never want to come out and give up two runs in the first inning and throw 30-something pitches, either. I did everything I could to figure it out as quick as possible. I was fortunate enough to keep the team in sort of winning distance. But, like I've said in the past, I don't like to lose. I don't like to give up runs. Tonight I didn't do my job very well."
Said catcher Rob Johnson: "I just felt like he was just missing a little bit. It wasn't like huge misses to me behind the plate. He was just missing two or three inches off the plate. And these guys were patient enough to not swing at them. And that led him, obviously, to some high pitch counts. He brings that ball back two inches and it's a totally different ballgame."
The Braves came away impressed, though, even though Harvey was outdueled by Paul Maholm.
Maholm faced only 29 batters in a complete game. His 95 pitches were the fewest required by a Braves pitcher in a shutout since Greg Maddux needed 89 pitches apiece in back-to-back four-hit shutouts in 2000, against the Marlins and Diamondbacks.
"He's got great stuff," Braves catcher David Ross said about Harvey. "The guy's throwing 96 [mph], throwing hard. But he's got to learn how to pitch. Once he learns how to pitch, he's going to be really good.
"Pauly [Maholm], when you're throwing 87 out there, you've got to know how to pitch from the get-go. And he's gotten nothing but better as he's gotten older. There's something to be said about veteran pitchers that know what they want to do to every hitter and know how to read hitters like catchers do and try to get on the same page as catchers. And that's why you try to bring young pitchers along and try to let those guys work through things and figure it out. Because this isn't Triple-A, this is the big leagues. So you've got to go through some bumps and bruises."
Harvey took a third-inning liner off his right thigh, but shook it off.
"I think it pissed me off," Harvey said. "I'm going out and walking people. And then I go out and get smoked by a line drive. It pissed me off, to be honest with you."
As for his first four major league outings, he overly-harshly summarized: "You look at my record. I haven't done my job very well. Whether it's walking too many guys or giving up runs, I've got to do better."