CINCINNATI -- The first question asked of Terry Collins after the Mets lost 6-1 Wednesday night to the Reds at Great American Ball Park regarded the bracelets R.A. Dickey was made to cut off his left wrist in the second inning.
Collins and his team have much more pressing issues, however, than an odd-timed uniform rulebook enforcement. They've now lost eight of their last 11 games. And in all eight losses they've failed to score more than three runs, including five times being limited to one run or less.
"We haven't done much lately but I'm going to find some guys," said Collins. "Maybe it's time for some breaks for some guys."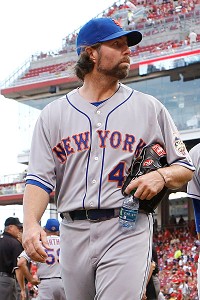 Joe Robbins/Getty Images
R.A. Dickey's Mets have lost eight of their last 11 games.
When the Mets were playing well in the first half of the season, taking a 46-40 record into the All-Star break, they were getting two-out hits to drive in runs. Third baseman David Wright was an early season MVP candidate.
Since the break they're 9-22 and it might not be much of a coincidence that Wright is hitting just .207 (19-for-92) over his last 25 games. He hasn't homered since July 27 and has just 16 RBI in the 31 games since the break, five of which came in one game at Washington on July 19. It's one of just two games since the All-Star break in which Wright has produced more than one RBI.
Wednesday night the Mets managed just four singles off of Cincinnati starter Mike Leake, two by leadoff hitter Mike Baxter and two by No. 2 hitter Ruben Tejada.
Baxter scored the Mets' lone run of the game on double-play ball hit by Daniel Murphy in the fourth inning. Leake set the Mets down in order in six of the nine innings. Leake retired 17 of the final 19 batters the Mets sent up against him.
"You see some swings in some counts that you wonder about," said Collins. "We talk about (Jordany) Valdespin being over aggressive but at least he's going up there trying to drive the ball."
The rookie left fielder went 0-for-3 Wednesday
As far as Dickey and his bracelet issues, home plate umpire James Hoye motioned to Dickey's left arm before the second inning began. He needed to remove the two small friendship bracelets his daughters had made them for him prior to his trip to climb Mt. Kilimanjaro in January.
"In the moment I was little bit angry," said Dickey. "I had them on every day since January whatever it was until the moment we were in. Nobody had said anything about it and they were real small and on my glove hand. Nonetheless, I guess it is a rule and I had to follow it."
Dickey said the incident didn't linger past that inning but he still surrendered five earned runs and 10 hits in six innings, including solo homers to Scott Rolen, Todd Frazier and Jay Bruce. In a bizarre mix, he also had nine strikeouts.
"It kind of came and went," said Dickey of his knuckleball. "They certainly did not miss one that was a mediocre knuckleball. They saw it early and were able to hit it."