WHAT IT MEANS: The Mets will need to examine whether to shut down Johan Santana for the season -- or, some other option more radical than merely implementing a six-man rotation to provide extra rest between starts.
After retiring the first nine Nats batters, Santana surrendered a fourth-inning grand slam to Michael Morse, followed by a two-run homer to Bryce Harper an inning later. He was pulled after the fifth, having surrendered six earned runs on seven hits. The Mets lost to Washington 6-4 on Friday night.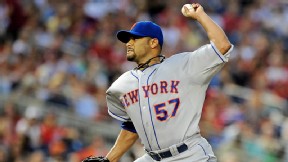 Patrick McDermott/Getty Images
Johan Santana surrendered six earned runs again Friday.
Santana became the first player in franchise history to allow six-plus earned runs in five straight starts, and the first major league pitcher to allow that many earned runs in five consecutive games since Mike Hampton, spanning 2001 and '02.
Since 1950, the only other pitchers to allow six or more earned runs in as many consecutive starts: Willie Blair (six straight starts, 1999 -- interrupted by relief appearances), Jim Abbott (five, 1996) and Bob Gibson (five, 1964).
Santana's record dipped to 6-9 -- matching the most games under .500 he ever has been in his career for a season. He opened 2006 with three straight losing decisions, but finished 19-6.
In 10 starts since his June 1 no-hitter, Santana has produced an 8.27 ERA and has surrendered 68 hits, including 13 homers, in 49 innings.
A glaring issue with Santana -- who missed last season following surgery to repair a torn anterior capsule in his left shoulder -- is that he is owed $31 million next season, including a 2014 buyout. So the Mets need to act with the best interest of next season in mind, especially since he may tie up a third of the payroll.
UNIFORM POLICE: Two days after the umps confronted R.A. Dickey for wearing bracelets on his left wrist in Cincinnati, Santana was forced to cover the gold Rawlings logo on his glove with tape at the start of the bottom of the third inning, incensing Terry Collins. It won't be fully clear until the postgame interviews, but this one may have been initiated by the Nationals. In Cincinnati, Collins and Dickey were informed it was a Major League Baseball uniform directive being enforced -- not something initiated by the Reds.
SHOP TALK: After going hitless in his first five at-bats as a Met, Kelly Shoppach launched a solo homer in the seventh against Craig Stammen to pull his new team within 6-4. Scott Hairston contributed a franchise-record-tying three doubles Friday. Daniel Murphy produced a two-run single in the first inning.
WHAT'S NEXT: The Mets will try to avoid dipping eight games under .500 for the first time this season when Jon Niese (9-6, 3.67 ERA) opposes right-hander Edwin Jackson (7-7, 3.74) at 7:05 p.m. Saturday. Third Eye Blind performs a postgame concert.