Collin McHugh, who will start Thursday assuming Johan Santana is unable to pitch, which seems the likelihood, is described by scouts as a Dillon Gee-type control pitcher.
Scouts have thought highly of him for a while as a back-of-the-rotation starter, even though McHugh does not get the attention of other prospects such as Matt Harvey and Zack Wheeler. He sports a 90-91 mph fastball, which is major league average. C.J. Nitkowski, on the Buffalo roster, adds as far as a scouting report: "Tight spin on curveball, cutter/slider very good, change too. He's a pitcher."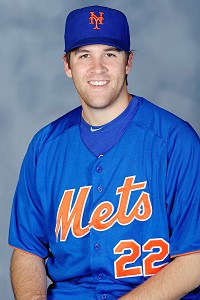 Courtesy of New York Mets
Collin McHugh
McHugh, an 18th-round pick in 2008 out of Berry College in Georgia, tossed seven scoreless innings Saturday at Fenway Park against Triple-A Pawtucket. With Buffalo this season, he is 2-4 with a 3.39 ERA in 12 starts. He opened the season at Double-A Binghamton. With the B-Mets, he put up a 13-7 record and 2.68 ERA in 30 appearances (28 starts) over two seasons.
One NL team nearly grabbed the 25-year-old McHugh in last December's Rule 5 draft for bullpen duty at the major league level.
Meanwhile, McHugh believes the comparisons to Gee are fair.
"I've seen him pitch a few times in spring training, and a couple of years ago I saw him pitch a little bit," McHugh said. "I think for the most part the comparisons are pretty well-founded. We both throw four pitches -- curveball, slider, changeup, fastball. He's got a little more of a sinker than I do. I probably have a little bit more of a curveball than he does. Otherwise, it's pretty similar.
"Actually, he's got a much better changeup than I do, too."
Wally Backman, while managing McHugh last year in Binghamton during the second half, said the right-hander had the best control on his staff. That's important for McHugh, who has four pitches but not eye-popping velocity.
"Major league average is like 90-point-something miles per hour on your fastball. I'm pretty much right there," McHugh said. "For a righty, I'm probably right in the middle. The most important thing for me is command.
"Here's what I learned the last couple of years: It's not necessarily having to 'paint' every pitch, having to put a fastball on the black or a curveball just below the knees every time. It's learning to command the strike zone better, keeping people off-balance, mixing your pitches well. I watch in the big leagues every day when I'm flipping channels or watching SportsCenter. You see guys miss mistakes. That's the way it happens. But when you get hurt, usually it's by missing in the strike zone, mistakes in the middle of the plate."
In the interim, McHugh also is making a name for himself in the literary world. His witticisms are on display on his blog "A Day Older, A Day Wiser," where he relays his minor league experiences. He also does so on Twitter (@Collin_McHugh).
Read last month's full minor league report on McHugh here.