Josh Thole said the scouting report proved spot-on with regards to Collin McHugh.
"Before the game I think they said he was Dillon Gee," Thole said. "That's exactly what I saw."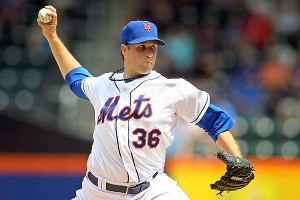 Jim McIsaac/Getty Images
Collin McHugh tossed seven scoreless innings in his major league debut Thursday.
McHugh limited the Colorado Rockies to two hits and a walk while striking out nine in seven innings in his major league debut. He received a no-decision in the Mets' 1-0 loss Thursday afternoon.
The only other pitchers in major league history (since 1918) to toss seven-plus scoreless innings while reaching that strikeout total and surrendering two or fewer hits? Steve Woodward with Milwaukee in 1997 and Juan Marichal with San Francisco in 1960.
"It's been a couple of years, obviously, since I've seen him pitch in competition," said Terry Collins, who oversaw the Mets' farm system in 2010, before taking over as manager. "The command of his stuff is so much better than what I saw two years ago. And that was the kind of pitcher he was. His slider is much improved than it was two years ago. The breaking ball, which they told me was really good, is really good. But the command of his fastball -- both sides of the plate -- is outstanding. I was very impressed."
As for the slow curveball, Collins added: "That fact that he can throw it for strikes -- and it's one of those late-breakers, it's not necessarily really hard, but it just breaks so late -- it's tough to pick up. He did exactly what we wanted him to do."
Said McHugh: "It's the same curveball that I've been throwing since I was 13 years old. I'm watching these kids in the Little League World Series and a lot of them have these curveballs or sliders or whatever. And it was the first curveball I ever learned. I've just been able to refine it slowly over the years. It's big and kind of slow, but if I can get that good finish, that good depth to it, it's an effective pitch for me."
McHugh left 13 tickets -- for his parents, wife, two siblings, a cousin and "a bunch of other friends that could easily be family."
Said McHugh: "The anticipating is the hardest part, for sure. Once the clock starts ticking you realize that you've done this 1,000 times before. You get a ball in your hand and start playing catch, it felt great. It felt comfortable out there."