The Mets demoted Collin McHugh to Triple-A Buffalo despite the right-hander tossing seven scoreless innings Thursday against the Rockies in his major league debut.
The Mets needed the roster spot for the return of Jeremy Hefner from a three-day paternity leave.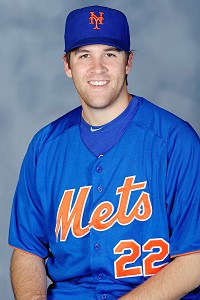 Courtesy of New York Mets
Collin McHugh
McHugh will have to spend 10 days in the minors before returning. Because Monday is a team off-day and the Mets have five other starters, the Mets don't need an extra starting pitcher in the next week.
"As I explained to him, this has happened many times before -- other places, not just today," Terry Collins said. "I had a pitcher with the Dodgers who pitched a three-hit shutout and got sent back the next day. The point is since we're in a six-man [rotation] anyway, he wasn't going to pitch for eight days. There's no sense in having him sit here when we would have had to send somebody out to leave him here. I just said, 'Go out. Get a start in. And then you'll be back and fit right back in the rotation.'"
Collins said McHugh still would make multiple starts next month. McHugh is not in danger of reaching an innings cap soon because he logged 156 1/3 innings last season when the Arizona Fall League is included. McHugh is at 150 2/3 innings this season between the majors and minors. Jumps of 30 innings usually are acceptable.
McHugh expects to make one start for Buffalo, on Tuesday or Wednesday.
"I think the goal is to stay on the same rotation we've been on," McHugh said.
The rookie celebrated his debut on Thursday night at LAVO on E. 58th St. in Manhattan with family and his agent.
"We had a fun night," McHugh said. "We went out and had a good dinner and saw some of the great city and just had a really good time."