Terry Collins is short on solutions after the Mets' freefall continued with a 3-1 loss to the lowly Houston Astros on Friday night at Citi Field.
"We've tried a lot of the stuff -- all I know in the past," the manager said. "You give them time off. We don't hit some days just to let them come in fresh. We do extra work. Get in the cage. Change bats. Maybe I'll use the one-bat approach, like we did in Anaheim that time. I don't know."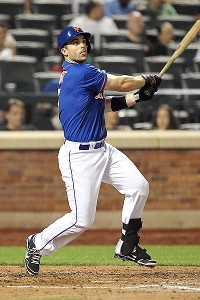 Mike Stobe/Getty Images
David Wright's 200th career homer went for naught in Friday's loss to Houston.
Still, Collins added: "I'm going to tell you something: I walk through that locker room every day and I look at those names up there and I see good players. I mean, I see good players. Dan Murphy, Ike Davis, Scotty Hairston, Ronny Cedeno. Long-time big leaguers. [Hitting coach] Dave Hudgens and I sat this morning -- shoot, 11:15 this morning, we're talking, trying to come up with a game plan, trying to come up with a new theory, with something that's going to unlock the hit box. We haven't found it yet."
Said David Wright: "If you watch the game, you see it. We're not scoring runs. And it puts a lot of pressure on our pitching to go out there and throw up zeroes when we're getting one or two runs a game. Offensively, I'm stating the obvious: We need to step it up and give our pitchers a little room for error, because we can't expect for them to throw shutouts every day. We're in a funk. And the few baserunners we do have, it puts a lot of pressure on our offense to come through the one or two chances that we get a game."
Jonathon Niese became the latest tough-luck loser, despite limiting Houston to three runs in seven innings.
"Jon did a good job," Collins said. "I told him when he came out of the [two-run second] inning: 'You put up some zeroes. Just put up some zeroes and let us have a shot.' And he did that. So we can't ask more than that.
"You can't ask for better [pitching] outings than we've put up. Guys have gone out there and done nothing but kept us in games. The bullpen has, for the most part, come up and done an outstanding job of getting guys out when they need to. We have first and third and nobody out and don't score. We're not playing that well that we can afford to do that."
So what now?
"They're professionals," Collins said. "If they've played long enough, they've all been humbled at some time. It's a humbling experience. And what you've got to do is fight through it. You've got to pick yourself up, knowing that you've been there before and how you get out of it. They've all been there. Every single guy in that room has had a slump. I don't think they've all had it at the same time. But they've all been in slumps. We, as a coaching staff, make sure every day that the attitude is positive. You might learn from the night before, but you've got to forget about the results and concentrate on what the formula is for the next day to try to win."
Concluded Collins: "It doesn't seem like it's the right lineup any night. But we have 25 guys. And that's who we're going to pick from. We're going to continue to do that."