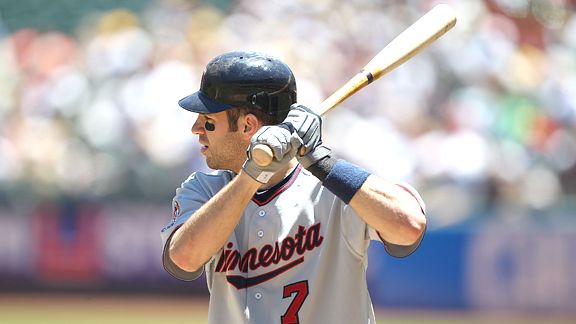 Jed Jacobsohn/Getty Images
Twins catcher Joe Mauer is hitting an uncharacteristically low .306 with three home runs.
METS (41-31, second place/NL East) vs. TWINS (40-32, first place/AL Central)
Friday: RHP Mike Pelfrey (9-2, 2.69) vs. RHP Kevin Slowey (7-4, 4.58), 7:10 p.m. ET
Saturday: LHP Johan Santana (5-4, 3.31) vs. RHP Carl Pavano (8-6, 3.64), 1:10 p.m. ET
Sunday: LHP Jon Niese (4-2, 4.17) vs. RHP Scott Baker (6-6, 4.61), 1:10 p.m. ET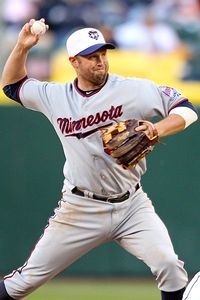 Otto Greule Jr/Getty Images
Michael Cuddyer has moved from right field to third base during interleague play.
Twins short hops
Right fielder Michael Cuddyer has manned third base during the first two legs of the Twins' trip to National League ballparks, at Philadelphia and Milwaukee, although rookie Danny Valencia also is capable of manning the position. Minnesota is lacking a DH while on this three-city interleague trip. Twins third basemen have hit a collective .220 this season -- an American League low. They also have a collective two homers and .288 on-base percentage. Using Cuddyer (.265) at third base allows left fielder Delmon Young and primary DH Jason Kubel, who holds his own in the corner spots, to start in the outfield. Cuddyer had started 137 major league games at third base during his 10-year career before this road trip, but had not appeared there since 2005, when he had 95 starts and expressed distaste for the position. Cuddyer has expressed a willingness to continue to see action there once American League play resumes, which may materialize. … Reigning American League MVP Joe Mauer, who has won the league batting title three of the past four seasons, was in a modest 8-for-37 slump that dropped his average to a subpar-by-his-standards .303 before delivering three hits Wednesday. He then sat out Thursday's matinee. Mauer has only three homers this season -- well off last year's 28-homer total. He will begin an eight-year, $184 million extension next season. … Shortstop J.J. Hardy (.217, 3 HR, 13 RBIs, 138 at-bats), who was acquired from the Milwaukee Brewers for ex-Met Carlos Gomez on Nov. 9, is on the disabled list for a second time this season with a bone bruise in his left wrist. Nick Punto has started at shortstop in Hardy's absence. … Gomez had been sent to Minnesota on Feb. 2, 2008 in the Johan Santana deal, which hasn't yielded much benefit to the Twins. The lone player remaining with the organization from that trade: right-hander Deolis Guerra, who is a combined 1-6 with a 4.20 ERA between Triple-A Rochester and Double-A New Britain. Right-hander Philip Humber is now in Kansas City's organization, while right-hander Kevin Mulvey is with Arizona, having been dealt for Jon Rauch. … Ex-Yankee Carl Pavano tossed a 105-pitch complete game and topped Roy Halladay in Philadelphia on Sunday, in a 4-1 victory by the Twins. Pavano allowed only four hits, including a homer to Wilson Valdez. He re-signed with the Twins in January for one year at $7 million. … Until returning last Friday, second baseman Orlando Hudson had not played this month because of a sprained left wrist suffered in a collision with teammate Denard Span. He signed a one-year, $5 million deal with the Twins shortly before spring training. … Right-hander Kevin Slowey has been roughed up in consecutive outings, including allowing seven runs while lasting only 1 2/3 innings in his last start, at Philadelphia. Before the back-to-back busts, Slowey was 7-3 with a 3.45 ERA. … Backup catcher Drew Butera hit his first big league homer Saturday off Philadelphia's Chad Durbin. His father, former major league catcher Sal Butera, was in attendance for the first time since Drew's April 9 debut and witnessed the shot. The 26-year-old Butera was acquired from the Mets with outfielder Dustin Martin on July 30, 2007 for Luis Castillo. Martin, 26, was hitting .284 with eight homers, 51 RBIs and eight steals through 257 at-bats with Triple-A Rochester. … Jim Thome, who turns 40 on Aug. 27, is limited to pinch-hitting duty during interleague play. Thome, who generally has backed up Kubel at DH, produced his 570th career homer when he delivered a two-run shot in the ninth Saturday off Philadelphia's Jose Contreras. Minnesota produced five ninth-inning runs against Contreras and Brad Lidge to force extra innings in an eventual 13-10 win. The shot was Thome's 570th career homer, moving him past Rafael Palmeiro for 11th all time. He became the 33rd player to homer against all 30 teams. … First baseman Justin Morneau's .349 average ranks second in the majors. His on-base percentage leads the majors, while his slugging percentage ranks second to Detroit's Miguel Cabrera. Morneau, the Twins' leader, went 7-for-14 in the series in Milwaukee and called out teammates after the series-ending loss for a lack of "energy." … Rauch suffered his third blown save in 20 chances Saturday at Philadelphia, but ultimately earned the win. Rauch, who has 43 career saves, assumed the closer role with Joe Nathan undergoing Tommy John surgery. After Nathan required the procedure, there initially had been speculation the Twins would acquire San Diego's Heath Bell or Toronto's Jason Frasor, but Rauch has stepped in nicely. … Young has hit .361 (39-for-108) since May 21. … Left-handed reliever Jose Mijares planned to rejoin the Twins in New York after being given a leave for a family situation in Venezuela. … Span has been successful in his last 14 steal attempts. … The Milwaukee Brewers completed a sweep of the Twins on Thursday afternoon as Yovani Gallardo retired 16 straight batters to open the game and Nick Blackburn was knocked out in the fourth inning as his ERA swelled to 6.10. … Outfielder Jason Repko, a former Dodger, was promoted from Triple-A. He will join the Twins in New York. Brendan Harris, who was hitting .157, was optioned to Rochester. … Right-hander Scott Baker has allowed a combined five homers in four starts this month.
Matchups
Pelfrey vs. Twins (career: never faced)
Orlando Hudson .571, 2 RBIs, 7 AB
Santana vs. Twins (career: never faced)
Delmon Young .500, 6 AB
Orlando Hudson .250, 1 HR, 2 RBIs, 16 AB
Jim Thome .194, 4 HRs, 7 RBIs, 31 AB
Niese vs. Twins (career: never faced)
Slowey vs. Mets (career: never faced)
Jeff Francoeur .667, 1 HR, 1 RBI, 3 AB
Jason Bay .333, 1 HR, 1 RBI, 3 AB
Rod Barajas .167, 1 RBI, 6 AB
Pavano vs. Mets (career: 7-7, 3.60 ERA)
David Wright .667, 1 HR, 3 RBIs, 6 AB
Alex Cora .429, 7 AB
Jason Bay .375, 8 AB
Rod Barajas .286, 2 RBIs, 7 AB
Henry Blanco .286, 2 RBIs, 7 AB
Jose Reyes .143, 1 RBI, 7 AB
Fernando Tatis .000, 4 AB
Baker vs. Mets (career: 1-0, 3.60 ERA)
Alex Cora 1.000, 1 AB
David Wright .333, 1 RBI, 3 AB
Jose Reyes .333, 3 AB
Jason Bay .000, 3 AB
Rod Barajas .000, 1 AB
Last series results:
Twins won 2-1 at Shea Stadium, June 18-20, 2007 (AP game recaps)
Mets 8, Twins 1: John Maine knew the Minnesota Twins would be a tough assignment, especially with the New York Mets coming off a 2-7 road trip. So Maine did what any good pitcher does in that circumstance. He kept the Twins off balance with a sharp slider and got the jump on most of their batters. And when he was done, Minnesota had managed just four hits against him in 7 1/3 innings. Of the 115 pitches Maine threw, 77 were strikes. Even though Maine had won only one of his last seven starts, he'd been keeping the Mets in games. New York was 8-5 in games he had started this season, and for a team that entered with just three wins in June, that was a major positive. For manager Willie Randolph, watching his team struggle was not pleasant. But he felt all along the Mets would hit. The key, he said, was getting some solid pitching. Maine provided that. Maine (7-4) took a three-hit shutout into the eighth inning and, just as Randolph promised, the Mets hit. Home runs by Carlos Delgado, who batted .189 on the road trip, and Ricky Ledee highlighted a 15-hit outburst. Delgado gave New York the lead with his 11th home run in the second inning. He connected on a 1-1 pitch from starter Carlos Silva (4-8). Two innings later, Delgado singled and reached third on a double by Shawn Green, who went 3-for-22 on the road trip. Delgado was thrown out trying to score on Jose Valentin's grounder to shortstop, but Ledee delivered a two-out single, scoring Green to make it 2-0. In the sixth, the Mets loaded the bases with two outs on a single by Valentin and walks to Ledee and Jose Reyes. Paul Lo Duca then hit a two-strike pitch from Silva for a two-run single, making it 4-0. The Mets broke it open in the eighth. Ledee hit his first home run of the season, off reliever Juan Rincon. Reyes then singled and stole his 38th base. After shortstop Jason Bartlett booted Lo Duca's grounder for an error, Carlos Beltran doubled for one run and David Wright followed with another double, his third straight hit, to make it 7-1. Carlos Gomez, a late defensive replacement, added a sacrifice fly. Maine had gone 1-4 with two no-decisions since winning five of his first six starts this season. He lost his last start at Los Angeles on June 12, when he allowed home runs on three straight pitches in a 4-1 defeat. This time, he gave up just four singles before leaving with one out in the eighth. The Twins got on the board in that inning on a pinch-hit single by Jason Tyner, an infield out and a two-out hit by Michael Cuddyer against reliever Pedro Feliciano. Maine struck out four and walked two, retiring 10 straight batters during one stretch. It was the ninth time in 14 starts this season that Maine has pitched at least six innings and the 10th time he has permitted two earned runs or less.
Twins 9, Mets 0: Handed a huge lead against a struggling team, Johan Santana simply threw strikes and let 'em hit it. The two-time Cy Young Award winner rarely has it so easy. Santana pitched a four-hitter with only one strikeout for his first shutout in nearly two years, and the Minnesota Twins took advantage of four early errors in a rout of the New York Mets. Santana (7-6) received a rare burst of run support and was staked to a 5-0 cushion in the second inning. The left-hander cruised from there, needing only 92 pitches to toss his fourth career shutout and first since Aug. 12, 2005, at Oakland. Santana walked none and retired 15 of his final 16 batters in his sixth complete game and first since May 17, 2006, at Detroit. He didn't strike out a batter until whiffing Paul Lo Duca for the first out in the ninth. In 157 career starts, Santana has never failed to strike out a batter. He led the AL in strikeouts each of the last three seasons. The shutout was bad news for Twins broadcaster and former big league pitcher Bert Blyleven, however. While riding the team bus to the ballpark before the game, Blyleven challenged Santana to throw a shutout and said he'd shave his own head if the pitcher turned the trick. Michael Cuddyer drove in two runs and Jeff Cirillo had three hits for the Twins, who used a balanced effort to pile up 13 hits and chase Jorge Sosa (6-3) in the fourth. The slumping Mets managed only four singles and never advanced a runner past second base. They followed their best game in weeks, a victory in the series opener, with one of their worst performances all season. By the third inning, Santana was smiling and laughing on the mound during a chat with catcher Joe Mauer. But this one was no fun for the Mets. An angry David Wright fired his glove into the dugout as he came off the field in the fifth, moments after committing his second error of the game. The third baseman then stomped up the tunnel and disappeared from view. New York's four errors -- all in the first five innings -- doubled its previous season high for a game. Minnesota totaled only six runs in Santana's three starts since his previous win May 28 against the Chicago White Sox. He was 0-2 in those outings. Santana improved to 15-4 in interleague play and 3-0 with an 0.82 ERA in three starts against the Mets. Sosa gave up seven runs, five earned, and eight hits in 3 1/3 innings, his shortest stint in nine starts since he was called up from the minors. It was his second consecutive rough outing after opening 6-1.
Twins 6, Mets 2: Torii Hunter hit a two-run homer and Scott Baker pitched five effective innings. Joe Mauer also drove in two runs for Minnesota, which won two of three in its first series at Shea Stadium since 2002. Baker allowed two runs and seven hits in the finale. Carlos Beltran went 3-for-4 and singled in a run for the foundering Mets, who have lost 13 of 16. New York has dropped six straight series since it took two of three games against San Francisco from May 29-31. Baker (2-2) struck out three and walked none in his first win since May 19. He had allowed 17 runs in 13 1/3 innings over his previous three starts. Dennys Reyes, Matt Guerrier, Pat Neshek and Joe Nathan combined to throw four scoreless innings of relief for the Twins. David Wright hit an RBI single to put New York ahead 2-1 in the third, but Oliver Perez (7-6) couldn't preserve the lead. Perez threw 7 1/3 innings in a 2-0 victory over Roger Clemens and the New York Yankees in his previous start but struggled with his control against the Twins. He had to wiggle out of several jams in the early going. Hunter came up with runners on first and third in the first and struck out to end the inning. Justin Morneau hit a two-out RBI triple in the third and was stranded there when Perez got Hunter to bounce out to third. Hunter finally got the best of Perez in the fifth. With two outs and Mauer on third, Hunter pulled a 1-2 pitch over the wall in left field to give Minnesota a 3-2 lead. His 15th homer of the season snapped a 1-for-15 skid. Pinch-hitter Mike Redmond had an RBI single in the sixth and Mauer lined a two-run double into the gap in left-center to make it 6-2. Perez allowed four runs and five hits in 5 1/3 innings. He walked five and struck out three. He had worked at least seven innings in six of his previous seven starts.