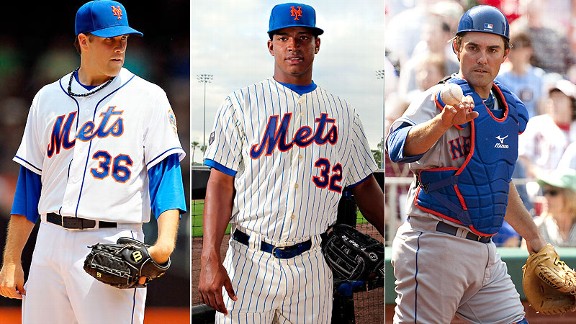 Getty Images
Likely September call-ups (l to r) should include Collin McHugh, Jenrry Mejia and Mike Nickeas.
PHILADELPHIA -- Major league roster expand Saturday, although many call-ups may wait until after Triple-A Buffalo's season ends Monday at Lehigh Valley to join the big league club.
Here are ESPNNewYork.com's projected call-ups from Buffalo in three categories …
YOU MAKE THE CALL: The most probable.
Collin McHugh, rhp. Even had he not been summoned to start in Johan Santana's place last Thursday, McHugh was a probable call-up, since he needed to be protected for this December's Rule 5 draft. He's a no-brainer now, after tossing seven scoreless innings against the Rockies in his major league debut. McHugh starts for Buffalo today. He should be capped at 75 pitches/five innings to ensure he is fresh for his return to the major league rotation.
Jenrry Mejia, rhp. Terry Collins said he expects Mejia to get an occasional start for the Mets in September. Mejia still projects as a reliever, but he has shown far better results in Triple-A this season as a starter. Mejia has a 1.94 ERA and .220 opponent batting average in nine starts with Buffalo. He has a 5.48 ERA and .303 opponent batting average as a reliever.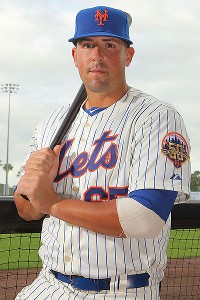 Marc Serota/Getty Images
Zach Lutz
Mike Nickeas, c. The Mets, like other MLB teams, customarily add a third catcher once rosters expand. And with Rob Johnson (thumb) done for the season, Nickeas is the obvious choice. He's hitting .317 in 60 at-bats with Buffalo since his demotion.
Jeurys Familia, rhp. Erratic is the right way to describe Familia's 2012 season with the Bisons, but he's already on the 40-man roster. Viewed by many scouts as a reliever, he is 8-9 with a 4.78 ERA in 27 starts. Familia has walked 72 in 130 innings.
Zach Lutz, 3b/1b. Lutz was poised for a September call-up a year ago, but suffered his second concussion of the season and had to end his Triple-A season early. Known for offense, not fielding, Lutz is hitting .303 with 10 homers and 33 RBIs in 69 Triple-A games.
Elvin Ramirez, rhp. Ramirez, 24, has a 7.30 ERA in 11 major league relief appearances this season.
CALL ME MAYBE? Bubble players.
Jordany Valdespin, if/of. Probably a little harsh to put Valdespin here, but there are at least some organizational rumblings of considering sending him a message about how to carry himself. The Mets did bypass a September call-up for Valdespin a season ago as a wakeup call. Valdespin is expected to primarily play second base during the final week of the Triple-A season.
Fred Lewis, of. Lewis left Monday's Buffalo game with an injury, which could further compromise any call-up potential. The 31-year-old former San Francisco Giant is hitting .290 with 11 homers and 24 steals.
Matt Tuiasosopo, of/3b. Hitting .244 with 11 homers with the Bisons. He appeared in 71 games with Seattle from 2008 to 2010.
SEPTEMBER MOURN: While not unfathomable, these call-ups look like longer shots.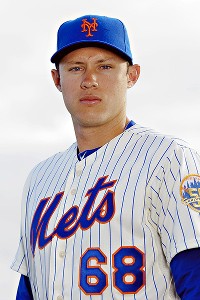 Steve Mitchell/US Presswire
Matt den Dekker
Matt den Dekker, cf. Drafted in the fifth round in 2010 out of University of Florida, den Dekker does not need to be added to the 40-man roster to be protected for the Rule 5 draft, making his odds long for a call-up. A lefty-hitter and lefty-thrower who covers plenty of ground in center field, he hit .340 with eight homers in 238 at-bats during the first half with Double-A Binghamton. Den Dekker has produced extra-base hits since a promotion to Buffalo, but his average is only .218 and he has struck out 86 times in 275 at-bats, suggesting more development time is needed.
Zack Wheeler, rhp. Due to be shut down for the season because of innings limits after a final start Friday for the Bisons at Rochester.
C.J. Nitkowski, lhp. Signed by the Mets in July after spending the previous four seasons in Asia, Nitkowski would be an intriguing call-up at age 39 for lefty-lefty matchups now that Tim Byrdak is done for the season to lessen the burden on Josh Edgin. But the Mets being out of contention puts a major obstacle in Nitkowski's path for a call-up. After mostly summoning Nitkowski for lefty-on-lefty matchups once he joined Buffalo, the now-sidearmer has been asked to contribute longer stints more recently, with less effective results.
Drew Carpenter, rhp. Appeared in six games in relief for Toronto this season.
Adam Loewen, 1b/of. Loewen may be on the outside looking in, despite competing with Mike Baxter during spring training for a roster spot. He's hitting .239 with eight homers in 55 games and missed more than two months with a stress fracture in his right foot.
Josh Satin, if. Already off the 40-man roster, Satin is expected to instead play for Israel in World Baseball Classic qualifying.