Darin Gorski's 2011 season began in Class A St. Lucie's bullpen. So the left-hander surely did not expect the script that unfolded the remainder of the year.
Gorski received a spot start with the Florida State League club because a rainout resulted in a doubleheader and the need for an extra arm. He ended up tossing six scoreless innings and remained in the rotation.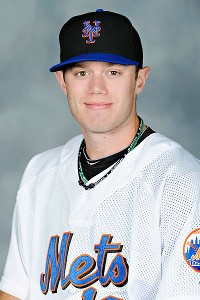 Courtesy of New York Mets
Darin Gorski
The southpaw went on to be honored at Citi Field in September as the organization's minor league pitcher of the year after posting an 11-3 record and league-best 2.08 ERA. He shagged fly balls in Queens with other award winners before a Mets game, met Tom Seaver and was recognized during a pregame ceremony.
"I'll put it this way: When we broke camp, I was never expecting to be in position to receive that award," Gorski said. "But just the way the season went, things kind of fell into the right place. And I took the opportunity and ran with it. I learned a lot about pitching while I was down there [in St. Lucie]. I learned a lot coming out of the bullpen, too. An important aspect of my development that season was coming out of the bullpen. For the most part, I just kind of took off."
A seventh-round pick in 2009 out of Kutztown University, where he pitched in the Division II College World Series his freshman season, Gorski has continued his progress at Double-A Binghamton this season.
Entering his final start, Thursday at Reading, the 6-foot-4 Gorski is 9-7 with a 3.66 ERA in 24 appearances (23 starts) in the Eastern League. He has allowed 123 hits and 49 walks while striking out 116 in 137 2/3 innings.
His final 2012 Eastern League start figures to be meaningful. Gorski grew up 45 minutes away from Reading's ballpark, in Mount Joy, Pa. (which also produced Bruce Sutter). And Kutztown University is only 15 minutes from the ballpark.
Gorski's fastball does not have eye-popping velocity -- it sits at 89-90 mph, but it's close enough to major league average to be successful, especially from the left side. He also throws a slider and changeup.
"I feel now, as opposed to the start of the year, I'm more polished and I have a better understanding what I'm trying to do with my pitch set and what I like to do when I go out there," Gorski said. "I definitely feel a lot more comfortable than at the start of the year, so I take that as a positive."
Organization leaders
Average: T.J. Rivera, St. Lucie, .316; Wilmer Flores, Binghamton, .308; Cam Maron, Savannah, .303; Eric Campbell, Binghamton, .295; Fred Lewis, Buffalo, .292; Alonzo Harris Jr., St. Lucie, .289; Josh Satin, Buffalo, .286; Juan Lagares, Binghamton, .279.
Homers: Aderlin Rodriguez, St. Lucie, 24; Cory Vaughn, St. Lucie, 23; Travis Taijeron, St. Lucie, 18.
RBI: Aderlin Rodriguez, St. Lucie, 82; Matt den Dekker, Buffalo, 75; Wilmer Flores, Binghamton, 72; Cory Vaughn, St. Lucie, 68; Dustin Lawley, Savannah, 66.
Steals: Alonzo Harris Jr., St. Lucie, 39; Fred Lewis, Buffalo, 24; Juan Lagares, Binghamton, 21; Cory Vaughn, St. Lucie, 21.
ERA: Hansel Robles, Brooklyn, 1.20; Gabriel Ynoa, Brooklyn, 2.30; Tyler Pill, St. Lucie, 2.31; Rafael Montero, St. Lucie, 2.36; Jacob deGrom, St. Lucie, 2.48; Luis Mateo, Brooklyn, 2.58; Luis Cessa, Brooklyn, 2.69; Michael Fulmer, Savannah, 2.74; Collin McHugh, Buffalo, 2.91; Rainy Lara, Brooklyn, 3.10.
Wins: Zack Wheeler, Buffalo, 11; Rafael Montero, St. Lucie, 11; Gonzalez Germen, Binghamton, 11; Cory Mazzoni, Binghamton, 10.
Saves: Fernando Cabrera, Buffalo, 22; T.J. Chism, Savannah, 18; Adam Kolarek, St. Lucie, 18; Adrian Rosario, St. Lucie, 14.
Strikeouts: Zack Wheeler, Buffalo, 143; Collin McHugh, Buffalo, 135; Jeurys Familia, Buffalo, 119; Darin Gorski, Binghamton, 116; Gonzalez Germen, Binghamton, 113.
Short hops
• 2012 first-round pick Gavin Cecchini is joining Brooklyn for its remaining regular-season games, plus the playoffs assuming the Cyclones qualify. Cecchini hit .246 with one homer and 22 RBIs in 191 at-bats with Kingsport, which completed its season Tuesday. A shortstop, Cecchini has been limited to DH duty since Aug. 12 because he is playing with a fracture at the tip of the middle finger on his throwing hand. Cecchini has begun a pregame throwing program.
Cecchini's arrival means the Cyclones have the team's last two first-round picks assigned there. 2011 first-rounder Brandon Nimmo is hitting .264 with five homers, 37 RBIs and a .385 on-base percentage in 239 at-bats with the Coney Island club.
• Brooklyn (41-27) leads Batavia (39-29) by two games in the league wild-card standings with eight games remaining. The Cyclones trail division-leader Hudson Valley (46-22) by five games.
• St. Lucie's Ryan Ellis has been named Florida State League manager of the year. He received the South Atlantic League manager of the year honor in 2011 while skippering Savannah. St. Lucie, despite being swept in a doubleheader Tuesday, is two wins shy of matching the club's single-season win record of 81, which came in 2000, with a team that included Heath Bell, Endy Chavez and Jason Phillips. Five games remain during the regular season.
St. Lucie, the first-half division winner, likely will face the Jupiter Hammerheads (Marlins) in the first round of the playoffs, although the Bradenton Marauders (Pirates) remain in contention. The opener will be on the road Tuesday, with home games next Wednesday as well as Thursday, if necessary, in the best-of-three series.
• Reliever Adam Kolarek, an 11th-round pick in 2010 out of the University of Maryland, was named to the FSL's postseason All-Star team.
• Left-hander Chase Huchingson is expected to be part of the Mets' Arizona Fall League contingent. He is 7-7 with a 4.17 ERA in 23 appearances (21 starts) with St. Lucie.
• The Mets' Triple-A team played its final home game Tuesday night, drawing 14,697 in Buffalo. The Mets are projected to have to switch their top affiliate to Las Vegas in the Pacific Coast League next season, because Buffalo appears inclined to partner with the Toronto Blue Jays. The Buffalo News' Mike Harrington reports the Bisons drew an all-time low 515,898 spectators this season, or an average of 7,370 per game. That was a decrease of 414 per game from the previous season. The Mets had only one winning record during the four-year affiliation.
• Scouts cannot help but be impressed with Binghamton shortstop Wilfredo Tovar's arm. One graded it a "70." That's second highest, with "80" reserved for the likes of Shawon Dunston.
• Zack Wheeler's final start this season should be capped pitch-count wise, as Collin McHugh's was Tuesday, when he tossed only 69 pitches. Wheeler, who is due to pitch in his season finale Saturday at Lehigh Valley, has logged 144 innings this season. The Mets planned to cap him at 150 or so. Wheeler has 143 strikeouts so far this season. Matt Harvey led the organization's minor leaguers last season with 156.
• After holding the fall instructional league across the state in Fort Myers at the Boston Red Sox's facility the past couple of years, the Mets are able to hold it back at their own complex in Port St. Lucie, Fla., this time. That's because the St. Louis Cardinals and Miami Marlins both are forming teams this fall in nearby Jupiter.
• Infielder Wilmer Flores is on tear as Double-A Binghamton's season ends. Flores is hitting .411 in 90 at-bats since Aug. 3. A natural shortstop, Flores primarily has shuttled between third base and second base with the B-Mets, with some dabbling at first base. He is expected to again play those positions in winter ball in his native Venezuela, for Margarita.
• Right-hander Hansel Robles, who turned 22 on Aug. 13, has not allowed an earned run in 28 innings over his past four starts with Brooklyn. During that span, opponents have produced one unearned run and nine hits and also have reached on two walks and a hit batsmen. He has struck out 26 during that span. Robles' 1.20 ERA leads the New York-Penn League. Lowell's William Cuevas ranks second at 1.51.
• Cory Vaughn is tied with Jupiter's Marcell Ozuna for the Florida State League homer lead at 23. Both went deep in the same game Tuesday. Vaughn also has 21 steals. He's the first 20-homer, 20-steal player in the Mets' minor league system since Jamar Hill (26 homers, 20 steals) with Class A Capital City in 2004.
• Left-hander Steven Matz has been shut down for the season with a shoulder issue, although the Mets maintain the 2009 top pick will be fine for next season. Matz, whose pro career initially had been stalled by Tommy John surgery, tossed six scoreless innings apiece in each of his final three appearances with Kingsport. He has not appeared since July 26.
Adam Rubin's farm report appears Wednesdays during the regular season. This is the final 2012 installment.