PHILADELPHIA -- Jon Niese said he was still suffering residual effects from the flu when he limited Philadelphia to three runs in six innings in what became a 3-2 loss to the Phillies on Thursday afternoon.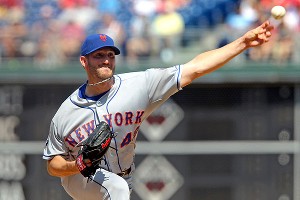 Hunter Martin/Getty Images
Fighting the aftereffects of the flu, Jon Niese allowed three runs in six innings Thursday.
"Right now I pretty much just have a cough," Niese said. "I'm just hacking up some stuff. I really didn't feel like I had much energy out there today. I just battled through it. I had to execute pitches when I needed to. You know going in that you're not going to have it, but it's one of those things where you've got to get it done."
Said Terry Collins: "He threw the ball fine. He had the flu three days ago, so I thought he pitched very well. The fact that he had to really pitch hard to get out of a couple of jams, I think wore him out a little bit. He kept us in the game. He threw the ball good."