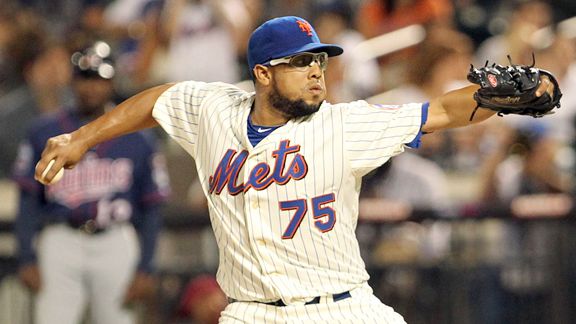 Anthony Gruppuso/US Presswire
Francisco Rodriguez produced his 17th save in 20 chances on Friday, but his back started to bark during the relief appearance.
Francisco Rodriguez needed to be placed on a stretcher and taken to a hospital because his back pain was so severe last May at Fenway Park. The lower-back issue has never totally gone away. And that prompted a visit from trainer Ray Ramirez on the mound during the ninth inning of Friday's 5-2 win against the Minnesota Twins at Citi Field.
"I feel some tightness in my back," said Rodriguez, who nonetheless completed his 17th save in 20 chances, despite allowing the tying run to bat. "I've been dealing with that a while. I felt that warming up in the pen. One pitch, also. I started stretching and moving around and it goes away. On that pitch I just tried to get extension and my back locked up on me."
Rodriguez indicated he received an anti-inflammatory injection before the Mets' last road trip, to Baltimore and Cleveland, but "that only worked for like four or five hours."
He added that the discomfort is intermittent -- surfacing some days and absent others.
"Off and on," he said. "One day I come like I have nothing at all, and the next day I feel a little tightness and soreness. … It could be walking in, sitting in the car."
Rodriguez called the issue in Boston last season "the worst pain I've ever had."
He labeled this year's episodes: "Something similar, but not that strong."
Said K-Rod: "Boston, I wasn't even able to move. I've been dealing with this for a while. I've been doing more stretching and some treatment on it. But today it got a little worse. I think I'll be all right tomorrow."
On Friday, trying to protect a three-run lead, Rodriguez retired Joe Mauer on a groundout, then surrendered a single to Justin Morneau. After the medical attention, Michael Cuddyer also singled, but Jason Kubel struck out and Delmon Young grounded out to end the game.
In 12 appearances this month, K-Rod has allowed a baserunner in all but one relief outing. He nonetheless is 8-for-9 in save chances in June.
"This year he's had a couple of different bouts with it, but it hasn't stopped him from pitching," manager Jerry Manuel said about the back issues.