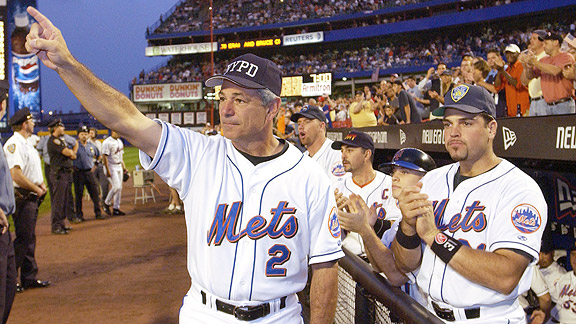 Ezra Shaw/Allsport/Getty Images
Mike Piazza and Bobby Valentine wear first responder hats during the Sept. 21, 2001 game at Shea.The Mets will wear first-responder caps before Tuesday's game against Washington Nationals, during batting practice as well as for the national anthem, but not during the game.
A team spokesman said the decision not to wear the caps during the game, which falls on the 11th anniversary of the 9/11 terrorist attacks, was made by the club and that Major League Baseball was not an impediment. An MLB official confirmed that was accurate.
The spokesman noted Mike Baxter, Dillon Gee and Bobby Parnell spent Thursday's off-day visiting FDNY Engine 10, Ladder 10 on Liberty Street across from the World Trade Center site. Tuesday's pregame ceremonies include the Gies family throwing out the ceremonial first pitch in honor of firefighter Ronnie Gies of Squad 228 in Maspeth, Queens, who lost his life on Sept. 11, 2001.
A year ago, the Mets nearly wore the hats recognizing the NYPD, FDNY and other agencies in-game, but MLB mandated in advance that standard hats be used and the players complied rather than violate the order.
The tradition started in the first game back in New York after 9/11, when the Mets -- including Mike Piazza, Todd Zeile and Bobby Valentine -- defied MLB and wore the caps over league objections.
"I find it ironic 10 years later and they still can't get it passed for one day of tribute," Zeile said last year, while attending the 9/11 anniversary tribute at Citi Field. "I guess they feel it's a slippery slope or something. ...
"The hats meant more than what they said on the top. I was wearing one from a kid that had lost his dad. And some of the other hats that we were wearing were hats that we traded with some rescue workers while we were down at Ground Zero. It wasn't like they came out of a hat box. We felt that was the best way to align ourselves with those guys that were working 24/7 while we were still out trying to play baseball. I don't think anybody expected it would have the kind of reaction, but the fact that MLB wanted to stop us, and then we decided to do it anyway, I think made it even more significant to the members of the city."