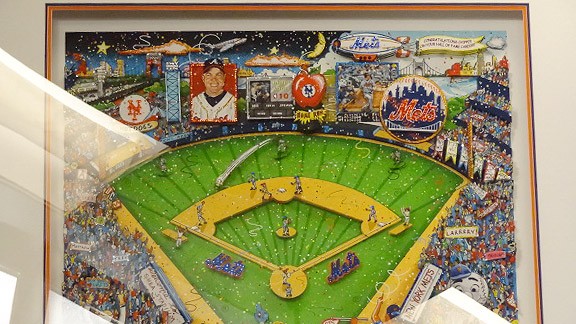 Adam Rubin
A look at the artwork produced by artist Charles Fazzino and presented to Chipper Jones by the Mets.
At an afternoon news conference, the Mets presented Chipper Jones with framed artwork highlighting their retiring nemesis' Shea Stadium highlights. They will replay the presentation pregame on the video board.
"Make no mistake, this is my last trip in," Jones said. "And I am in awe of the attention that this series is getting. It is much appreciated."
Jones noted his first 10 years in the majors, he did not venture outside of his hotel room when visiting New York because he was too intimidated.
"Only recently, probably the last five or six years, have I ventured out and walked down the street and signed autographs while I was walking down the street. And there are all kinds. It's New York. You're going to run into one bad apple every once in a while. But, for the most part, everybody has been gracious. Everybody has been very nice. I can't tell you how many times I've heard, 'Yo, Chip-puh, quit beating up on my Mets,' or, 'Good luck against the Yanks.'"
Here are selected quotes from Chipper, who is making his final visit to Flushing as a player: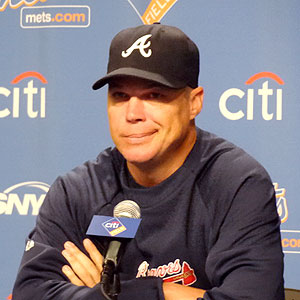 Adam Rubin
Chipper Jones addresses the media before his final series in New York.
On when his 8-year-old son Shea grasped the origin of his name, and those chairs he bought from Shea Stadium ...
"It wasn't very hard for him, because his room has been decorated in orange and blue from the very get-go. He has murals on the wall of baseball players and Shea Stadium. I've given him replicas of Shea Stadium throughout the years. He had two stadium seats in his closet, bolted to the floor so he can sit in them and get dressed every morning for school. Whenever a stadium flashes up on TV, he goes, 'Is that my stadium dad?'
"He just turned 8, and he's a pretty good athlete. He was hitting a pitched ball before he was 3 years old. So his hand-eye coordination is there. He's one of the best football players on his team. ... He's paid me back for a lot of the bad things that I've done in my life up to this point. He's my one that I have to go get out of the principal's office from time to time. He's a great kid."
On the importance of playing with one team his entire career, and how much a player such as David Wright should weigh that when deliberating re-signing in New York ...
"It was very important for me. I can honestly say this is one reason why the Atlanta Braves and I have had such a good marriage, is because the Braves have never allowed me to go to free agency. They've never allowed me to get close to free agency. I've never gotten into a free-agent year without having a long-term deal signed before spring training. So that's huge. When your employer impresses upon you that they want you there and they don't want you to go anywhere -- they don't even want you sniffing the other side of the fence -- that's big.
"I'm a Southern kid. I grew up in the South. I was born into the Braves organization. I grew up in the Braves organization. And I reaped the benefits of the professional life at the big league level in Atlanta. And I got to play for arguably the greatest manager of all time in Bobby Cox. So to me it really didn't seem like the grass was all that greener because I got spoiled with the success the Atlanta Braves organization had early on in my career. Bobby was there. Maddux, Glavine and Smoltz were there. Lead-pipe cinch where I wanted to play and stay.
"Once it got to the point where those guys left the game and left the Braves organization, I just felt it was my duty to stick through thick and thin. Cal Ripken, Tony Gwynn, Craig Biggio, all those guys, they set a good example for me -- not tucking tail and running when things got tough. I wanted to be the same way."
On being a villain in New York ...
"I don't think I enjoyed it as much as Rocker did. I'm one of those guys who likes to be liked. I care what people think about me. I care what people's image of me is. It's that whole Civil War thing -- North against South -- and all that. We were the country boys that were brash and cocky but very good and coming up here and playing well on the big stage. I think it was good for baseball."
On the expected reception from Mets fans ...
"I'd like to think it will be somewhat mixed. I know there are going to be a lot of Braves fans here, who wouldn't miss this opportunity -- ever. Somebody asked me the question yesterday or the day before, 'If I were a Mets fan, how would I feel about me?' I would respect the body of work, but I would hate his guts."
On Shea Stadium ...
"Every major league ballpark is somewhat of a cathedral, but that one holds a special place for me. No. 1, playing on this stage, I've always said, is the most fun of anywhere you can play. It doesn't matter whether it's at Shea Stadium or Yankee Stadium. But it holds a special place. I've played in some epic games in that ballpark, whether it's my first home run, whether it's the first game after 9/11, whether it's the grand-slam single that Ventura hit. I'm enough of a man to take a step back and realize when the other team does something special. It affects me as well. A lot of the memories I have of Shea Stadium aren't necessarily good ones, but I respect the fact some pretty amazing players did some pretty amazing things to our ballclub over the years."
On his favorite New York moment ...
"It's hard to compete with the first. So many good memories I have of Shea Stadium are from that very first series -- whether it was the 2-0 fastball that I got from Josias Manzanillo in the top of the ninth to help us win, 3-2. Whether it was the home run I hit off Pete Harnisch the very next day into their bullpen. But above even those, I think, 9/11 was my fondest memory. That will be a game that will be etched in my memory forever. You're talking about two heated rivals. We didn't necessarily like each other all that much back then. And we got together before the game and we came together, grown men, shaking hands, giving hugs.
"I think we all knew as Braves that night we were in trouble, because we were not only playing a very good baseball team, but you just had the feeling God and every other baseball god was on New York's side that night. And the matinee idol, Mike Piazza, ends up hitting the storybook homer that sent everyone home feeling great, feeling wonderful. We had done our jobs as baseball players to entertain people, but we had gone, I feel, above and beyond just the normal day's work in that we owed it to the City of New York and the Northeast United States to help heal a little bit, help take people's minds off of a terrible tragedy for a couple of hours. And it was a riveting game from start to finish. ...
"I guess when you hear Bobby Cox's reaction after the game, and knowing Bobby the way I do and as intense as he was and how he wanted to win every single inning, every single pitch of a game, even he admitted after the game it was as it should be."