Chipper Jones indicated he very much hopes to at least pinch hit in his final game as a player in Flushing. Officially, Jones is sitting with fluid buildup in the left knee that he had surgically repaired during the final week of spring training.
"I'll be pleading to be the first guy off the bench today for the last at-bat," Jones said.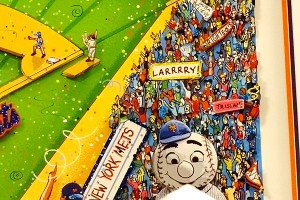 Adam Rubin
A closeup look at a section of the three-dimensional artwork the Mets presented Chipper Jones on Friday.
As for his final weekend playing in New York, the 40-year-old third baseman added: "It's been great. It's obviously bittersweet. It's the last time I'll be coming here as a player, unless we face the Yankees in the World Series. I wish things would have worked out where I could have played today. I really wanted to try to get out there today. Sometimes my body just doesn't allow me to do so. We've got a chance to sweep, so that would be a good way to blow out of town.
"It's been awesome to come out here and play on this stage. I'm grateful that I had the opportunity. I'm grateful to the Mets organization for all their generosity and hospitality this weekend -- and the fans that have been receptive and for a lot of cheers when I've walked up to the plate, and some chants last night late. I'm not used to hearing that particular chant I heard last night. It's usually Larrrrr-ry. Last night it was 'Chipper,' so that was cool.'"
Jones noted his feelings toward Mets fans has evolved over his career.
"I've had a gradual changing of my perception of the fans for about the last five or six years," Jones said. "It's certainly a lot more cordial. I'm getting a lot of hits on Twitter from a lot of Mets fans saying they still hate me, but they respect the career. I think they're more frustrated with the Mets than they are with me. It's still nice to interact. I never thought to look at social media as being a good thing, but it turns out it has because it has given me an opportunity to interact with not just Braves fans, but Mets fans, various fans."