In advance of the official release of the documentary "Knuckleball!" featuring R.A. Dickey, the mayors and Boston and New York will declare "Knuckleball Day" in their respective cities. Here's the official press release for the movie:
New York and Boston sports fans rarely agree on much, but the two rival cities seem to have found a common ground in support of the new documentary "Knuckleball!" which will open this week. On Sept. 18, Mayor Thomas Menino will proclaim "Knuckleball Day" in Boston, while Mayor Michael Bloomberg will do the same in New York on Sept. 20.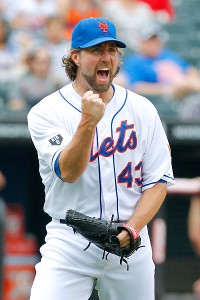 Paul J. Bereswill/Associated Press
A documentary featuring R.A. Dickey will be shown later this week.
The proclamations will kick off a series of special events surrounding the opening of the film by Annie Sundberg and Ricki Stern, which tells the story of the elusive pitch through the eyes of its greatest practitioners, including the Red Sox's Tim Wakefield and the New York Mets' R.A. Dickey.
"We are very excited that Mayors Menino and Bloomberg have chosen to honor our film in such a unique way, and are looking forward to having thousands see the story of these men and their unique skill like they have never seen it before," Sundberg and Stern said. "Their story of success and overcoming great odds is something anyone can relate to, and we are proud to be able to bring it to the screen."
Boston's Regal Fenway Cinema will host a "Knuckleball Day" screening on Tuesday, Sept. 18, while New York will host their own "Knuckleball Day" with a series of events on the 20th. The 18th opening will have knuckleballers Tim Wakefield, Phil Niekro, Charlie Hough and Wilbur Wood on hand for a special event at City Hall with Mayor Menino and then a screening and Q&A with the public, while the public screenings and Q&A at the IFC Film Center on the 20th in New York will feature Wakefield, Niekro and Dickey as well as a proclamation from The City. The IFC Film Center will continue to show the film this month as well.
Tickets to the screenings and the q and a for both Boston and New York, as well as fall screenings in 13 other cities from Santa Fae, New Mexico to Chicago and Denver can be obtained through http://www.knuckleballmovie.com/see-knuckleball.html
The film will also be available everywhere on Video On Demand starting on the 18th.
KNUCKLEBALL! is the story of a few good men, a handful of pitchers in the entire history of baseball forced to resort to the lowest rung on the credibility ladder in their sport: throwing a ball so slow and unpredictable that no one wants anything to do with it.
The film follows the Major League's only knuckleballers in 2011, Boston Red Sox's Wakefield and Mets' Dickey, as they pursue a mercurial art form in a world that values speed, accuracy and numerical accountability. All living knuckleballers -- Phil Niekro, Jim Bouton, Wilbur Wood, Charlie Hough and Tom Candiotti -- all are featured in the film as well.