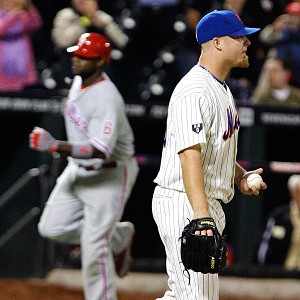 Frank Franklin II/Associated Press
Josh Edgin reacts as Ryan Howard trots around the bases following the slugger's two-run homer in the ninth.
Josh Edgin had been one strike from securing his first major league save. Instead, the rookie left-hander ultimately surrendered a two-out, two-run homer in the ninth to Ryan Howard as the Philadelphia Phillies rallied to beat the Mets, 3-2, Wednesday night at Citi Field.
Edgin had a streak of 16 straight scoreless relief appearances snapped. The Mets fell to 59-2 when leading after eight innings this season.
"It was up -- middle up," Edgin said about the fateful pitch to Howard. "That's what he's paid to do. He's a big guy, paid to hit home runs. I give him a meatball, so he's going to do it."
With Frank Francisco unavailable because of elbow tendinitis, Collins elected to use Edgin over Jon Rauch to close with the switch-hitting Jimmy Rollins and then three straight lefties due up -- Juan Pierre, Chase Utley and Howard. Rollins and pinch hitter Ty Wigginton struck out before Utley walked on a full-count pitch to set up the Howard two-run homer. It was the first go-ahead, two-out homer in the ninth inning of Howard's career.
"You know it's the ninth inning, but it doesn't really change your mindset or how you approach people," Edgin said about closing the game. "I threw a ball to Utley that it was a good five, six inches off -- or low. It was a ball. He worked the count. I got through the first two and then walked Utley. Walks are a killer. And then I left a fastball up to Howard."
Said Terry Collins: "As we're in this stage of trying to look at our young players, we didn't have Frankie tonight, so it's the perfect situation. If Josh Edgin is going to pitch in this league, he's got to get one of those two guys (Utley or Howard) out. That's what he's in the game for. He made a mistake, left it in the middle of the plate. At this level, you're going to run into trouble. The more he's up here, the more he pitches, the more he's going to learn that and get better at it."