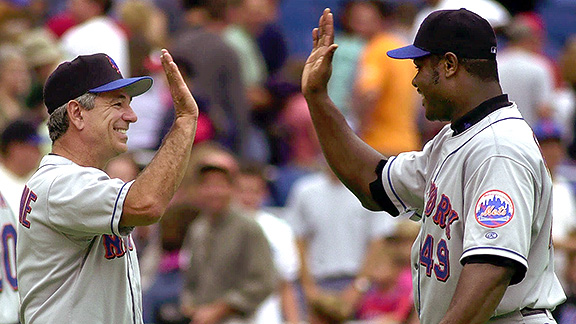 AP Photo/William Thomas Cain
Reunited? It appeared Bobby Valentine and Armando Benitez would again be paired, this time with the Marlins. But while Benitez is doing well with Florida's Triple-A team, multiple reports suggest Bobby V may not wind up as Marlins skipper after all.
METS (43-32, second place/NL East) vs. MARLINS (35-40, fourth place/NL East) at San Juan
Monday: RHP R.A. Dickey (6-0, 2.33) vs. RHP Ricky Nolasco (6-6, 4.92), 7:10 p.m. ET
Tuesday: LHP Hisanori Takahashi (6-3, 3.78) vs. LHP Nate Robertson (5-6, 4.89), 7:10 p.m. ET
Wednesday: RHP Mike Pelfrey (10-2, 2.71) vs. RHP Chris Volstad (4-7, 4.40), 7:10 p.m. ET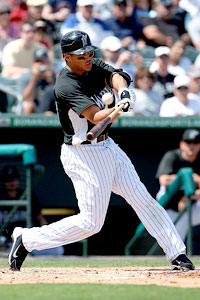 Doug Benc/Getty Images
Rookie Mike Stanton, in a rut, did not play Sunday for the Marlins.
Marlins short hops
Widespread South Florida reports and SI.com indicate Bobby Valentine is no longer a candidate to manage the Marlins, who fired Fredi Gonzalez on Wednesday morning along with hitting coach Jim Presley and bench coach Carlos Tosca. Arizona third base coach Bo Porter interviewed Friday for the managerial position. Edwin Rodriguez, the first Puerto Rican manager in major league history, will continue to serve as interim skipper as the Mets and Marlins meet in San Juan for three games. The Marlins are 1-4 since Rodriguez has taken the helm. Two days after Gonzalez's firing, coach Dave Collins also resigned. … Shortstop Hanley Ramirez, who showed up Gonzalez after the then-skipper pulled him from a game for lack of hustle earlier this season, denied Sunday having culpability for the ouster. "A lot of people put [the firing] on me," Ramirez was quoted as saying by the Palm Beach Post. "I don't know why. It had nothing to do with me." … Florida arrived in San Juan having lost four straight, including getting swept by the San Diego Padres, to fall a season-worst five games under .500. … Highly regarded rookie Mike Stanton, who hit .313 with 21 homers in 192 at-bats at Double-A Jacksonville and was called up after the June 6 series finale against the Mets at Citi Field, sat on Sunday. The 20-year-old right fielder is in a 4-for-30 rut. … Right-hander Chris Volstad took a scoreless effort into the seventh inning against the Padres in his most recent start, but surrendered a homer to Will Venable in the frame and San Diego ultimately won, 3-0. … Ex-Met closer Armando Benitez, who began the season pitching with the independent Atlantic League's Newark Bears, signed a minor league contract with the Marlins and was assigned to Triple-A New Orleans. Since joining the Zephyrs, he has a save and has produced two scoreless one-inning relief appearances. … Fellow ex-Mets reliever Scott Strickland, who had not appeared in a major league game since making five September appearances with the Houston Astros in 2005, was promoted last week. Marlins beat writer Joe Capozzi reported Strickland nearly quit three weeks ago to pursue his offseason job full time as a repo man. Roster room opened when Clay Hensley landed on the disabled list with a neck strain. … Because the Marlins shifted a home series to San Juan, they will play 13 straight games outside of Miami. … Closer Leo Nunez has converted 12 of his last 13 save chances. … Third baseman Jorge Cantu was in a 3-for-38 rut before going 2-for-4 Sunday. … Ronny Paulino leads National League catchers with a .309 average.
Matchups
Dickey vs. Marlins (career: 2-1, 6.43 ERA)
Jorge Cantu .600, 1 RBI, 5 AB
Hanley Ramirez .600, 1 RBI, 5 AB
Wes Helms .500, 2 AB
Chris Coghlan .333, 3 AB
Gaby Sanchez .333, 3 AB
Cody Ross .200, 5 AB
Dan Uggla .000, 5 AB
Brett Hayes .000, 3 AB
Takahashi vs. Marlins (career: 0-1, 7.45 ERA)
Wes Helms 1.000, 1 AB
Cody Ross .667, 1 HR, 4 RBIs, 6 AB
Ronny Paulino .500, 2 RBIs, 6 AB
Dan Uggla .400, 2 HR, 2 RBIs, 5 AB
Chris Coghlan .333, 3 AB
Jorge Cantu .250, 2 RBIs, 4 AB
Hanley Ramirez .000, 4 AB
Gaby Sanchez .000, 2 AB
Pelfrey vs. Marlins (career: 1-6, 5.63 ERA)
Ronny Paulino 1.000, 1 HR, 2 RBIs, 2 AB
Dan Uggla .391, 8 RBIs, 23 AB
Cody Ross .353, 5 RBIs, 17 AB
Jorge Cantu .350, 2 RBIs, 20 AB
Mike Lamb .333, 2 RBIs, 6 AB
Wes Helms .333, 3 AB
Chris Coghlan .286, 7 AB
Hanley Ramirez .269, 1 HR, 2 RBIs, 26 AB
Emilio Bonifacio .143, 7 AB
Nolasco vs. Mets (career: 4-6, 5.58 ERA)
Chris Carter .500, 2 RBIs, 4 AB
Alex Cora .500, 1 RBI, 10 AB
David Wright .386, 3 HR, 10 RBIs, 44 AB
Jose Reyes .378, 3 HR, 5 RBIs, 37 AB
Angel Pagan .364, 11 AB
Jeff Francoeur .310, 2 HR, 7 RBIs, 29 AB
Rod Barajas .286, 1 RBI, 7 AB
Fernando Tatis .222, 1 RBI, 9 AB
Jason Bay .211, 19 AB
Ike Davis .000, 5 AB
Josh Thole .000, 5 AB
Henry Blanco .000, 3 AB
Robertson vs. Mets (career: 2-1, 4.30 ERA)
Ike Davis .667, 1 RBI, 6 AB
Henry Blanco .600, 1 HR, 2 RBIs, 5 AB
David Wright .500, 2 HR, 4 RBIs, 6 AB
Jeff Francoeur .500, 2 RBIs, 6 AB
Angel Pagan .375, 8 AB
Ruben Tejada .333, 1 RBI, 3 AB
Rod Barajas .300, 1 RBI, 20 AB
Fernando Tatis .250, 1 RBI, 4 AB
Jason Bay .200, 1 RBI, 10 AB
Jose Reyes .167, 6 AB
Volstad vs. Mets (career: 1-2, 2.70 ERA)
Henry Blanco 1.000, 1 AB
Jeff Francoeur .556, 1 HR, 3 RBIs, 9 AB
Jason Bay .500, 1 RBI, 2 AB
Fernando Tatis .333, 3 AB
David Wright .250, 8 AB
Angel Pagan .200, 1 RBI, 5 AB
Jose Reyes .167, 6 AB
Josh Thole .000, 1 RBI, 1 AB
Last series results:
Mets won 3-0 at Citi Field, June 4-6 (AP game recaps)
Mets 4, Marlins 3: R.A. Dickey won his third straight start and the New York Mets improved their impressive record at Citi Field. After the Mets fought back from a three-run deficit, Francisco Rodriguez retired slugger Hanley Ramirez with runners at second and third for his 11th save in 14 chances. Ramirez hit a chopper up the third base line and David Wright bounced an off-balance throw to first that easily beat Ramirez for the final out. Mets reliever Elmer Dessens retired Ramirez on a foulout to end the seventh with runners at the corners. Ruben Tejada provided an immediate offensive spark after coming up from the minors and Dickey delivered two hits and an RBI, pushing the Mets to 20-9 at home with their sixth consecutive victory here. New York, 8-18 on the road, has won 16 of 20 at spacious Citi Field, which opened last year. Jason Bay had an RBI double and Jeff Francoeur hit a tying single to help the Mets rally against Anibal Sanchez (5-3), who had won four starts in a row. Chris Coghlan (three hits) had his fifth straight multihit game for the Marlins, who opened a tough nine-game road trip that also takes them to Philadelphia and Tampa Bay. Florida had won six consecutive meetings with the Mets after losing to Johan Santana on opening day in New York, a streak that included a four-game sweep May 13-16 in Miami. Making his fourth start since coming up from the minors, Dickey (3-0) yielded three runs and seven hits in 6 1-3 innings. The 35-year-old knuckleballer was coming off consecutive wins over Philadelphia and Milwaukee. His two hits were a career high. Sanchez beat the Mets 7-2 on May 14 and had gone eight straight outings without giving up more than two earned runs. He was 5-1 with a 1.97 ERA during that stretch. The right-hander yielded four runs and nine hits over 5 2/3 innings in this one. Wright drew a one-out walk from Sanchez in the sixth and went to third on Rod Barajas' double off the left-field wall. Francoeur lined the next pitch to left for a tying single, extending his recent resurgence at the plate following a prolonged slump. Tejada hit a fielder's choice grounder into the shortstop hole and crossed first without a relay throw. His first major league RBI gave New York a 4-3 lead. Wright made a diving play on Brett Hayes' sharp grounder to third to open the seventh. Shortstop Jose Reyes was shaken up after Coghlan took him out on a force play at second later in the inning, but remained in the game. New York was trailing 3-0 when Tejada opened the third with a double for his second career hit. With the infield creeping in to defend a bunt, Dickey pulled the bat back and hit a butcher-boy liner off first base for an RBI single. Bay added a run-scoring double with two outs. The 20-year-old Tejada was recalled from Triple-A Buffalo before the game and will be the starter at second base in the absence of Luis Castillo, placed on the 15-day disabled list with a bruised right heel. Cody Ross tripled with two outs in the second for Florida and Cameron Maybin followed with a single. Sanchez singled leading off the third and came home on a fielder's choice grounder by Ramirez. Another run scored on the play when first baseman Ike Davis muffed the relay throw from second for an error. The Marlins had a chance to add more, but center fielder Angel Pagan threw out Ramirez at the plate on Jorge Cantu's single for his sixth outfield assist.
Mets 6, Marlins 1: Jon Niese finally won at Citi Field and David Wright even cleared the fence. Wright drove in three runs and rookie Ike Davis went 4-for-4 to break out of a slump as New York improved to 21-9 at Citi Field with its seventh straight home win. Jeff Francoeur had an RBI single and Ruben Tejada a run-scoring double off Nate Robertson (4-5), who beat the Mets twice this season. Setting a quick pace and throwing a sharp curveball, Niese (2-2) scattered six hits over seven innings for his first career win in nine starts at the spacious ballpark in Queens. The 23-year-old left-hander had been sidelined since straining his right hamstring early in a 10-8 loss at Florida on May 16. He entered 0-2 with a 5.63 ERA against the Marlins this year. Jenrry Mejia and Fernando Nieve finished up for the Mets, who have won 17 of 21 at Citi Field, New York, which is 8-18 on the road, has taken the first two games of a three-game series after dropping six meetings in a row to the Marlins. Back on a big league mound after one minor league rehab assignment, Niese struck out six, walked one and induced a pair of inning-ending double plays in a game that took just 2 hours, 15 minutes. He did not go to a three-ball count until facing Jorge Cantu leading off the seventh. Davis doubled to start the second, ending a 5-for-38 skid (.132). Francoeur hit an RBI single and Tejada, who has provided a surprising offensive spark since coming up from the minors Friday, cracked a run-scoring double off the left-field fence. Angel Pagan hit a leadoff double in the third and scored on Davis' one-out single. Wright followed with a long drive onto a second-tier balcony in the left-field corner for his 10th home run this season equaling last year's total. It was Wright's first homer at Citi Field since connecting off Florida ace Josh Johnson on opening day, and seventh here since the ballpark opened last year. Davis doubled again with two outs in the fifth and scored on Wright's single, making it 6-0. Davis also singled leading off the eighth. Dan Uggla doubled in the seventh and scored on Ronny Paulino's single, spoiling Niese's shutout bid. Robertson yielded six runs and seven hits in 4 2/3 innings. He is 0-2 in four starts since beating the Mets on May 15.
Mets 7, Marlins 6: Jerry Manuel is confident the New York Mets will one day take their home success on the road. Until then, the manager sure is enjoying these games at Citi Field. Jeff Francoeur hit a tying, three-run homer in the seventh inning and the Mets rallied to beat the Florida Marlins, running their home winning streak to eight games. Angel Pagan had a two-run single in New York's three-run sixth and scored the go-ahead run when Ike Davis grounded into a double play in the eighth. The Marlins led 5-0 and 6-3 before absorbing their fourth loss in five games. But there is help on the way, with highly touted slugger Mike Stanton scheduled to make his major league debut Tuesday at Philadelphia. Stanton wowed the Marlins during spring training with his power but the 20-year-old outfielder was sent to Double-A Jacksonville for seasoning. He responded by dominating the Southern League, hitting .311 with 21 homers and 52 RBIs in 52 games to earn the promotion to the majors. The Mets improved to 18-4 in their last 22 games at Citi Field. They lead the majors with 22 home wins, including a nine-game winning streak in Queens that spanned from April 22 to May 8. Pedro Feliciano (2-2) struck out Chris Coghlan with runners on first and second to end the eighth, and Francisco Rodriguez finished for his 12th save in 15 opportunities. Cody Ross struck out with a runner on second to end the game. Ross hit a three-run homer and Dan Uggla also went deep for Florida. Coghlan went 2-for-5 and is batting .500 (17 for 34) in his last eight games, but struck out three times. Francoeur hit a 1-2 pitch from Wood into the seats in left for his sixth homer, tying it at 6 and delighting the crowd of 36,612. Francoeur is batting .500 (18-for-36) during his 10-game hitting streak. Pagan started the winning rally with a leadoff walk against Clay Hensley (1-2). He went to third on Bay's single to left and scampered home when Davis hit a sharp grounder to shortstop Hanley Ramirez, who made a nice play to start the double play. Curiously, Marlins manager Fredi Gonzalez kept his middle infielders back even though the go-ahead run was on third base with nobody out. Manuel put Pagan in motion on the full-count pitch to Bay, and the move paid off. Ricky Nolasco allowed three runs and eight hits in 5 1/3 innings for the Marlins, getting pulled after just 82 pitches. He lobbied Gonzalez to let him stay in but the manager was undeterred. David Wright had three hits off Nolasco, improving his career batting average against the right-hander to .386 (17-for-44). Gonzalez tweaked his lineup for the series finale, hoping a return to the leadoff spot would help Ramirez snap out of his funk. The results were mixed; last year's NL batting champ went 0 for 2 with three walks and is stuck in a 1-for-12 rut. Uggla, batting third in Ramirez's usual spot, led off the fourth with his 13th homer, driving an 0-2 pitch from Hisanori Takahashi into the seats in left. It was his fifth of the year against the Mets.