After what Terry Collins agreed was an "embarrassing" 16-1 loss to the Philadelphia Phillies, the manager lectured his players postgame and did not refute inquiries about whether the Mets had quit.
Asked directly if the team had quit, Collins succinctly said: "You have to ask them."
Pressed about his own thoughts, the manager repeated: "You'll have to ask them. I have my own opinion. I'm not going to express it publicly."
Asked what he could say to his team after such a loss, Collins said: "You've still got to play. You've still got to play the game right, play like Juan Pierre plays. He hit a chopper down the first-base line in a game [while] meaningless and beats it out for a hit. That's how you play.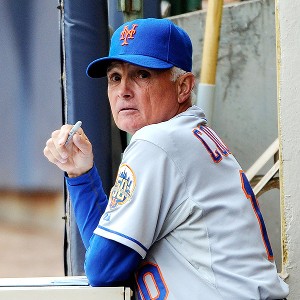 Benny Sieu/US Presswire
Terry Collins on whether the Mets have quit: "You'll have to ask them."
"Obviously the way the first inning started and the way things have gone, certainly we were behind the eight ball from the start. And that doesn't add to a very positive start to the game, or very positive attitude on the bench. But I saw some things tonight that were unacceptable."
What was most troubling?
"I'm not going to talk about it," Collins said.
Is his team embarrassed like him?
"You have to ask them," the manager replied. "I'm not inside their heads.
"First of all, I take great pride in this team," Collins continued. "This team has played their hearts out for two years against tremendous different odds and things that have happened. The human nature of our business and in sports, you can have letdowns. Some are expected. We've had a huge letdown in the second half. But you've still got to come out and have some fun playing and enjoy playing and enjoy being out there. People paid money to see us tonight. Our fans, not that we wouldn't have lost 16-1, but not the way we lost. This is the big leagues.
"It's all about perception. And the perception is tonight after we're down 8-0 the game was over. No disrespect to Tyler Cloyd. None whatsoever. But three hits? Please. We're better than that."
David Wright refuted any suggestion the Mets had quit.
"The record speaks for itself. Obviously we're not playing good baseball," Wright said. "For some reason, at home, it's been really difficult in the second half. And I think you try to put your finger on it, you try to figure out reasons. We've just not been able to find any answers. But, of course, it's frustrating. You take a lot of pride in what you do. You go out there and you try to compete. We're going through a stretch now where we're just not executing and getting the job done. That's the bottom line.
"We're in this thing together. Terry is a part of this. Everybody in here is accountable. Terry is upset. We're obviously upset. And rightfully so. We've been awful. When you play as poorly as we have, there's going to be a lot of people upset.
"I don't believe that anybody in here has quit. We're going through a rough time right now and we have to obviously find a way to finish the season strong. But there's a number of different reasons why individually guys are going out there, trying to get the job done and playing hard. ... So to answer that question, no, I don't feel like we've quit. I just feel like we're playing really poorly, and the record indicates that.
"I see the preparation, I see the work that guys are putting in. It's not showing on the field. And it's discouraging, I'm sure, from the fans' perspective because you multiply that by 100 times and that's how discouraging it is in here, because this is guys' livelihoods. Guys take a lot of pride in this. ... I think everybody in here is embarrassed. To have the bright spot that was the first half and have a ton of momentum going into the All-Star break and then kind of the complete opposite -- play as poorly as we have in the second half -- it's, yeah, a punch to the gut."
Said Ike Davis: "We haven't quit at all. It's our job. This is the way we make money. This is the way these guys feed their families, is to go out and perform. No one wants to not do good. No one has quit."